Oasis' tour opener in Seattle may have gone off without a hitch, but the band's appearance at Toronto's Virgin Mobile Festival last night was a different scenario, with a wild fan running onstage to attack Noel Gallagher as he strummed through Britpop classic "Morning Glory."
The fan, who came from a side-stage viewing area, sprinted forward pushing Noel offstage before he was clobbered by bouncers. Naturally, brother Liam was there to lend a hand to his fallen kin, jabbing at the crazed fan as he was dragged away. The perpetrator was arrested and later charged with assault, reports NME.com. But the attack didn't stop the show, with Oasis returning to play six more songs, including a cover of the Beatles' "I Am the Walrus." Following the gig, Noel visited the hospital and was examined for a possible fractured rib and ligament damage. The result have yet-to-be announced.
Suppose it's karma from all that fighting, right?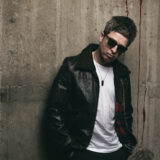 Check out the YouTube footage below.https://www.youtube.com/embed/CX5JBsKih0c