There's no denying My Bloody Valentine's sheer volume: The reunited shoegazers are easily the loudest band playing today. But the quartet proved Monday night at Manhattan's Roseland Ballroom that, aside from earplugs, there's another accessory necessary to handle their live experience: Sunglasses. In their second U.S. show in over 16 years (the first was at ATP New York on Sunday), My Bloody Valentine launched a full attack on fans' senses with droning blasts of noise and a light show fit to cause epileptic seizures.
"Turn it up!" fans shouted at the front-end of the band's set, which kicked off with the fluxing "I Only Said," from their genre-defining 1991 album, Loveless. And these volume fanatics got their wish, as the foursome built an ever-growing tidalwave of white noise that only grew with melodious, thick-as-a-humid-August-day thrashers like "When You Sleep" and "Soon," and grinding slow-divers like "Slow."
Vocalists/guitars Kevin Shields and Bilinda Butcher remained mum throughout the gig, though heeding fan advice to "turn up the vocals!" which, at least at the show's start, were hardly audible under the wash of guitars. And despite the high-end guitar mix, there was one glaring letdown: All the sliding, floating riffs that accentuate much of MBV's material were prerecorded, leaving both Shields and Butcher strumming power chords in unison as a laptop took the lead.
The crowd, many of whom bore the age of 'original '80s fans,' swayed all by their lonesome, separated from their neighbors by a wall of impenetrable noise. Earplugs were removed and thrust skyward like a rite of passage. But when the wave of oceanic noise crashed in a brain-numbing 15-minute assault of gorgeous racket on set-closer "You Made Me Realize," the floor shook, T-shirts literally rippled, and looks of 'it's-not-really-this-loud!?' abounded. Imagine Cape Canaveral as your living room. In the middle of Shields' shredding, however, his guitar speakers failed, providing the crowd a slight reprieve. But as Shields fiddled with the controls of his Fender Jaguar, the other three band members continued– and after a little help from the tech, the frontman returned to the exact chord that had gone silent, pummeling fans with his patented brand of thought-eradicating noise.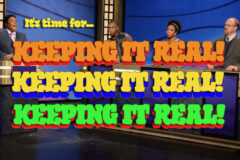 One tipsy 30-something, perhaps simultaneously deafened and overjoyed with the MBV's long-awaited set, may have said it best: "Welcome back motherfuckers!"
Check out pictures from the performance on page 2.

My Bloody Valentine / Photo by Rebecca Smeyne

My Bloody Valentine / Photo by Rebecca Smeyne

My Bloody Valentine's Kevin Shields / Photo by Rebecca Smeyne

Bilinda Butcher of My Bloody Valentine / Photo by Rebecca Smeyne

My Bloody Valentine's Debbie Googe / Photo by Rebecca Smeyne