Contrary to internet murmurs earlier this week, Radiohead won't be providing the entire score to the movie adaptation of Choke, a novel by Fight Club author Chuck Palahniuk. But the Oxford-based whizzes will be contributing in much lesser capacity, lending one song to what's shaping up to be an illustrious soundtrack, featuring tunes from the likes of the Buzzcocks, My Morning Jacket, Death Cab for Cutie, and Clap Your Hands Say Yeah.
Scheduled for a Sept. 23 digital-only release, the soundtrack will precede the release of the film — winner of the Special Jury Prize for best Work by an Ensemble Cast at Sundance — which hits theaters Sept. 26.
Starring Sam Rockwell, the film follows sex addict and con artist Victor Mancini through a twisted, raunchy tale of Colonial re-enactments and fake choking incidents in high-end eateries. To provide the background to the bizarre chaos of the narrative, actor, director, and screenwriter Clark Gregg has enlisted an eclectic mix of his personal favorites also including an unreleased song from Portland, OR spazzes Blitzen Trapper, a rare Shout Out Louds number, and a Doors cover by Jersey-bred siren Nicole Atkins.
Radiohead guitarist Johnny Greenwood may have proven himself movie-ready with the score to There Will Be Blood, but with a tracklist like this, Radiohead sharing the wealth certainly isn't a bad thing.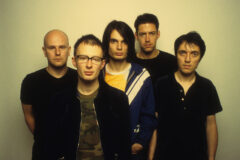 Choke Soundtrack tracklist:
1. Ben Kweller – "The Rules"
2. The Natural History – "Don't You Ever" (rare)
3. Fiery Furnaces – "Navy Nurse"
4. Radiohead – "Reckoner"
5. Alap Momin – "Sin Terror"
6. Clap Your Hands Say Yeah – "Satan Said Dance"
7. Buzzcocks – "Orgasm Addict" (rare)
8. Death Cab for Cutie – "No Sunlight"
9. Blitzen Trapper – "Wicked" (unreleased)
10. Ms. Tyree Sugar Jones – "If You Feel It"
11. My Morning Jacket – "Touch Me I'm Going To Scream Pt 1"
12. Shout Out Louds – "Bicycle" (rare)
13. Twilight Singers – "There's Been An Accident"
14. Nicole Atkins – "Crystal Ship" (unreleased)
Check out the trailer here.