Portland, OR's indie rock upper crust — including members of Spoon, Sleater-Kinney, the Thermals, Quasi, and many more — packed the air-conditioned confines of Valentine's Saturday night (Aug. 16), swilling drinks and boogying at the downtown haunt frequented by the city's creative underclass. The occasion? None other than the world premiere of the video for Stephen Malkmus and the Jicks' "Gardenia," a number off the band's most recent long-player, Real Emotional Trash.
DJ Magic Beans, or Maggie Vail of now-defunct riot-girl punkers the Bangs, got the festivities underway, streaming through three decades of soul, dub, punk, and post-punk vinyl, before eventually giving way to the video's director, Daniel Woods, a.k.a. Dantronix. The clip, the directorial debut of Portland resident, effortlessly compliments the track's laid-back vibe with arty transitions and a rapid-fire parade of local and not-so-local celebs — Joe Plummer from Modest Mouse, Panther, Sam Adams (Portland's mayor-elect), Girl Talk, Ratatat, and Brian Bell of Weezer, among others — lip-syncing and air-guitaring along to the music.
Check out photos from the event, a clip of the video, and the rest of the live review on page 2.
Woods, a master networker, obsessive archivist of rock history, and befriender of rock stars from both far and near, has been a Portland fixture for years. Though he's ostensibly a DJ by trade, his real passion is compiling video, and over the last several years has collared interviews with some real heavyweights. (His forthcoming feature-length documentary, tentatively entitled Music Is Everything, will drop in 2009 (supposedly) and will feature fresh footage of the likes of Kraftwerk, Jarvis Cocker, and Belle & Sebastian, among many, many others, waxing eloquently about the importance of music and its place in popular culture.)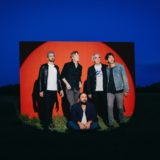 Malkmus — who was noticeably absent Saturday night due to family obligations and is also said to be no fan of the video-making process — gave Woods his approval to helm the project earlier this summer and the end result doesn't disappoint. The general response from attendees after the premier was positive, with Jick drummer Janet Weiss telling SPIN.com that she thought the video was "very good." Judging by the high-fives and congratulatory handshakes aimed Woods' way, the majority agreed.
The full video will hit the web later this week, but check out a teaser below:https://player.vimeo.com/video/1456303
Malkmus Video Project from localcut on Vimeo

Britt Daniels of Spoon and Janet Weiss of Sleater-Kinney fame as well as one of Stephen Malkmus' Jicks. / Photo by Josh Elliott

Carrie Brownstein from Sleater-Kinney / Photo by Josh Elliott

"Gardenia" director VJ Dantronix. / Photo by Josh Elliott

DJ Magic Beans / Photo by Josh Elliott

Two attendees get Jick-y with it. / Photo by Josh Elliott

Patrons at the screening. / Photo by Josh Elliott