Conor Oberst (a.k.a. Bright Eyes) and the Mystic Valley Band kicked off a 17-song set at Philadelphia's Trocadero last night (Aug. 11) with "Sausalito," and from first strum to last gasp, they kept the at-capacity crowd rooted in a bygone age. Tracks from recently-gone-solo Oberst's self-titled debut, like "I Don't Want to Die (in the Hospital)" and the straight-forward rock of "Danny Callahan," were as much at home around a campfire in Sergio Leone's Wild West as sprung from the lips of indie/folk/rock's favorite son. Even the melodies seemed to respect the world Oberst set out to (re)construct, moseying along over the occasional Cowboys-and-Indians kick drumbeat, as on the much-applauded "Cape Canaveral."
Before closing out the show with his lone trip to the keys, our humble frontman let his bandmates takeover vocals — notably when bassist Macey Taylor crooned a cover of Harry Nilsson's Midnight Cowboy theme "Everbody's Talkin'" with Oberst attempting some inspired footwork behind him. With the of-era songs and the band's encapsulating performance, the Philly crowd certainly feasted on Oberst's excellent, "spaghetti western"-like vibe.
Check out pictures from last night on page 2.

Conor Oberst / Photo by James Camerote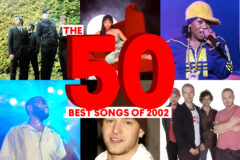 Conor Oberst / Photo by James Camerote