Lowered expectations don't always guarantee a band will deliver a satisfying show. Such was British post-post-punkers Bloc Party's plight last night during a sold-out show at New York City's famed Webster Hall.Lackluster opening sets by Brooklyn's Amazing Baby and England's head-throttling electro-ravers Does It Offend You, Yeah? set the bar relatively low for Kele Okereke and his gang. At this point, it seemed even the slightest bit of effort would have wowed the crowd.
And yet, when Bloc Party took the stage, it seemed as if the quartet had little interest in delivering the sort of energized, quasi-life-affirming show that their music demands. Okereke stumbled and mumbled his way through what should have been strong vocal performances during the first half of the set, which relied heavily on 2007's A Weekend in the City. Even the frontman's stage banter was relatively uninspired, as an aborted attempt at introducing his band's members awkwardly morphed into an aborted attempt at engaging the audience with a Q&A session.
Then, when the situation seemed most sonically dire, the group launched into the recently released single "Mercury," which found Okereke completely re-energized as he shouted and stalked the stage. And for the rest of the set, the quartet played with newfound purpose and energy that made even the slow-paced songs seem as if they were traveling at light speed. Add a commanding encore that featured an impromptu cover of Prince's "I Would Die 4 U," and you've got proof that even the most boring parties can turn out surprisingly well.
Check out pictures from last night on page 2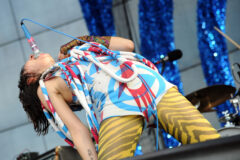 Bloc Party / Photo by Jackie Roman

Kele Okereke of Bloc Party / Photo by Jackie Roman

Russell Lissack and Kele Okereke of Bloc Party / Photo by Jackie Roman

Kele Okereke of Bloc Party / Photo by Jackie Roman

Kele Okereke of Bloc Party / Photo by Jackie Roman

Morgan Quaintance of Does It Offend You, Yeah? / Photo by Jackie Roman

Morgan Quaintance of Does It Offend You, Yeah? / Photo by Jackie Roman