As the Democratic National Convention draws nearer to its kickoff date of Aug. 25 in Denver, CO, artist Shepard Fairey — the man behind the ubiquitous "HOPE" stickers, posters, and T-shirts — has teamed up with grassroots political organization MoveOn.org, design outlet Upper Playground, and musicians like Moby and Thurston Moore to express support for Presidential candidate Barack Obama with the "Manifest Hope Art Gallery."
The gallery, on display from Aug. 24-28 during the convention, will feature both new works and widely recognized pieces seen in the 2008 presidential campaign. But how can your visual art be included in the gallery and support the presidential candidate, you ask? Well, the Manifest Hope Online Gallery Art Contest has kicked off, and requests art submissions from Barack supporters, which will be judged by Fairey, the always-political Moby, and Sonic Youth icon Moore, as well as other artists and curators. The winner of the contest will have their work displayed at the gallery during the convention.
"Art provides the perfect platform to express our collective enthusiasm and commitment for change," Fairey commented in a statement. "The Manifest Hope Gallery will shine a light on artists using their works to engage their community and challenges other artists to do the same."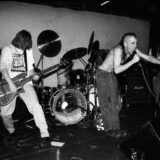 Click here to enter, but don't delay!The deadline for submissions is Aug. 18 at 11:59 P.M.