A collective of indie rock royalty, including Death Cab for Cutie's Ben Gibbard, Zooey Deschanel, Johnathan Rice, Jenny Lewis, and Nada Surf's Matthew Caws, took the stage at Denver's Manifest Hope Gallery last night to support Barack Obama at a party thrown by Moveon.org and Generation Obama during the Democratic National Convention.
After a series of introductory remarks by comedian Sarah Silverman ("McCain may be a war hero, but not in this war," she quipped), San Francisco mayor Gavin Newsom, and Seattle mayor Greg Nickels (who gave props to the Seattle music scene by name-checking Nirvana, Pearl Jam and Jimi Hendrix), the rockers lined up to perform before a large piece of Obama artwork by Shepard Fairey, the man responsible for the widely-seen "OBEY" posters.
The set list featured a few songs by each artist, including Death Cab's "The Sound of Settling" and Lewis' "Acid Tongue." The highlight came when Deschanel borrowed Gibbard's guitar to play "This Is Not a Test," from her recent collaborative project with M. Ward, She & Him. After working through most of the song, Deschanel stopped. "I'm going to start over," she said. "This is actually the first time I've ever played guitar in front of people. I write on guitar, but that's really only in front of myself."
Manifest Hope Gallery's exhibit features a large array of Obama-related artwork by various artists, with proceeds from the sales going to support the Obama campaign. Earlier in the evening, the gallery hosted a free, boozy outdoor concert — enforcement of open-container laws doesn't seem a high priority for the Denver Police this week — across the street featuring Silversun Pickups, Cold War Kids, and Clap Your Hands Say Yeah.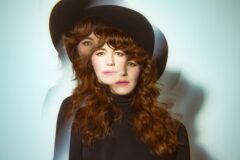 Check out pictures from last night on page 2.

Ben Gibbard and Zooey Deschanel / Photo by Emily Zemler

Zooey Deschanel / Photo by Emily Zemler

Ben Gibbard and Zooey Deschanel / Photo by Emily Zemler

Sarah Silverman / Photo by Emily Zemler

Sarah Silverman / Photo by Emily Zemler