Bloc Party's new video has surfaced online — and it's a creepy, dudes-in-animal-heads clip accompanying presumed new single, "Mercury." Problem is, details about the band's forthcoming release are scarce at best. Here's the video, and scroll down past it to read what we do know about the new Bloc Party material.
https://youtube.com/watch?v=WYdyExUfIbI
Now, here's what's been going on in Blo Party land over the past week. The group's faithful were in a tizzy after a tantalizingly amorphous countdown on the band's site culminated in a teaser that prompted fans to check out Zane Lowe's BBC radio show today, July 7, at 2:30 P.M. EST (7:30 P.M. in London). But alas, at about that moment, the scavenger hunt paid off, as the beguiling clip for "Mercury" — the presumed first single off their as-yet-unnamed next album (which also has a to-be-determined release date) — hit the Interweb.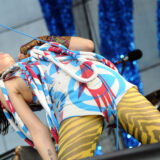 "Mercury" can be streamed at the BBC's website and will be released as a single on Aug. 11 in the UK, and shortly thereafter in the U.S. As soon as any additional details about the clips, song, impending LP or the surprising new creative direction come to light, we will surely keep you posted.
About the video: Part Planet of the Apes and part wartime propaganda film, the four-minute mindbender follows a group of poorly costumed apes playing Dr. Frankenstein over a two-legged cow befitted with a mammoth lobster claw in lieu of a left arm. Dubbed "Smith," the bovine beast is set off to the civilized world, where it quickly settles into society, gets an Ivy League degree, marries its sweetheart and ascends the political latter to eventual global military domination. This all transpires to the delight of the manic marsupials, who are watching through crystal balls and television sets.
A bit abstract for the generally introspective Brits for sure, but the real shocker is the track that propels all this absurdist imagery. Aggressive, menacing and fueled by drum 'n' bass beat stuttering, repetitive vocal loops and near-industrial crescendos, "Mercury" raises the temperature and temperament of Bloc Party's normally hummable tunes significantly.