Who? Born Nasir Jones, Queensbridge, New York's hip-hop maven Nas — a recent Spin interviewee and Artist of the Day subject — is best known for his 1994 classic, Illmatic, as well as other career-defining records like God's Son and Street's Disciple. July 15 will see the release of his latest controversy-rife record, which is being released without a proper title.
What? Following an intimate MySpace show to celebrate the release of his new LP at Los Angeles' Roxy July 18, Nas will strike out on a headlining tour — dubbed the Jones Experience — with like-minded wordsmith Talib Kweli, DJ Green Lantern, and newcomer Jay Electronica.
More on SPIN.com: >> Artist of the Day: Nas >> Tribe Called Quest, Nas Top Rock the Bells Bill >> The Inquisition: Nas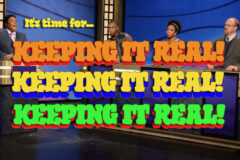 Scheduled to take place in between Nas' appearances at Rock the Bells, the Jones Experience kicks off July 22 in Montreal and then makes its way down the East Coast.After hopping over to the West Coast for a string of dates beginning in Las Vegas Aug. 8, Nas, Kweli, and pals will hit venues in Texas and along the Northern border of the US before concluding Sept. 5 at Minneapolis' legendary First Avenue.
Should I Go? Yes. Kweli is a venerable live performer, and the sets by turntable wizard DJ Green Lantern and Jay Electronica — who was recently signed to Erykah Badu's label — should be no less fiery.Undoubtedly, however, the main attraction is Nas, whose show promises to please both modern hip-hop heads and old-school devotees.
Nas tour dates:
7/18, Los Angeles, CA (record release at the Roxy on Sunset) 7/19, Chicago, IL (First Midwest Bank Amphitheatre)*7/20, Toronto, ON (Arrow Hall)*7/22, Montreal, QB (Metropolis)7/24, Burlington, VT (Higher Ground)7/25, New Haven, CT (Toad's Place)7/26, Boston, MA (Comcast Center)*7/27, Washington, DC (Merriweather Post Pavilion)*7/29, Charlotte, NC (Amos' Southend)7/30, Charleston, SC (Music Farm)7/31, Atlanta, GA (Center Stage)8/1, New Orleans, LA (House of Blues)8/2, Miami, FL (Bicentennial Park)*8/3, New York, NY (Jones Beach Amphitheatre)*8/8, Las Vegas, NV (House of Blues)8/9, Los Angeles, CA (Glen Helen Pavilion)*8/10, San Diego, CA (House of Blues)8/14, Reno, NV(New Oasis)8/15, Chico, CA (Senator Theatre)8/16, San Francisco, CA (Shoreline Amphitheatre)*8/22, Park City, UT (Harry O's)8/23, Denver, CO (Fiddler's Green Amphitheatre)*8/24, Austins, TX (Emo's)8/25, Houston, TX (Warehouse Live)8/26, Dallas, TX (House of Blues)8/28, Cleveland, OH (House of Blues)8/29, Detroit, MI (Chene Park)8/30, Champaign, IL (Canopy Club)9/3, St. Louis, MO (The Pageant)9/4, Milwaukee, WI (The Rave)9/5, Minneapolis, MN (First Avenue)9/6, Quincy, WA (The Gorge Amphitheatre)*
(* indicates with Rock the Bells)