What? The Hold Steady are consummate rock'n'roll storytellers, and the band's newest record, Stay Positive, out stateside via Vagrant July 15, proves once again the quintet won't disappear any time soon. With a penchant for sporting Americana influences on their sleeve, the band's combination of sound and vision culminate into a slice of nostalgic pie that's unabashedly all their own; tales of the other side of the tracks, where the stories and their music reflect that things don't stay the same but somehow don't change all that much. On Positive, it's their signature classic rock influence that bursts out, all brilliantly clear through the consistency of their expertly blended layers of reigned-in sonic perfection.
Who? Formed by Frontman Craig Finn and lead guitarist Tad Kubler, the Hold Steady started out in Minneapolis — in the band Lifter Puller — before making the move to Brooklyn and compiling the services of local musicians Franz Nicolai (keys, accordion, harmonica), Bobby Drake (drums), and Galen Polivka (bass) to round out the stellar five-piece dynamic. Unleashing Almost Killed Me in 2004 on Frenchkiss Records, they enjoyed immediate critical success and turned out Separation Sunday the following year, following that up two years later with their instant classic, Boys and Girls in America, their first release on Vagrant.
Fun Fact: Famously temperamental alt-rock deity J. Mascis of Dinosaur Jr. recorded his banjo parts for Stay Positive track "Two Crosses" without ever meeting any of the guys in the band.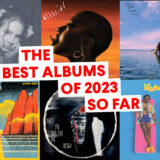 Now Hear This: "Sequestered in Memphis"