Lyric-spitter RA Scion and his producing partner-in-crime Sabzi (also of Blue Scholars repute) first fueled their way out of Seattle's rain-soaked streets with the Black Patch War EP earlier this year, but if the title track to Tobacco Road, out Sept. 9 via HYENA/Massline, is any indication, hip-hop heads will be nodding along to a mature and nuanced record that's anything but plodding.
More on SPIN.com: >> Artist of the Day: Common Market >> Bumbershoot '06: Common Market, Blue Scholars
Common Market's "Tobacco Road" is a nostalgic cut that carries the bloodline of Naughty By Nature's "Everything's Gonna Be Alright" and the mid-tempo reflection of late-'90s conscious rap crews like Jurassic 5, finding a healthy vein somewhere between the former's street sensitivity and the latter's throwback musicality.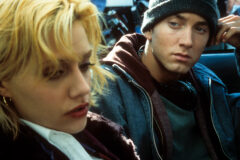 For Scion, who was raised in Kentucky but has since traveled the globe in search of spirituality, "Tobacco Road" is more than some token paean to his humble youth meant to balance unabashed odes to braggadoccio. It's a full-circle sermon on the significance of his Southern roots. "The schools failed me/Thank god the farms taught me," he confesses with appreciation, further grounding himself with soft-ego'd sentiments like, "I shoulda spent another year on the bottom tier/Instead of trying to dodge what it was I thought got 'em here."
And as ever, his flow is one step ahead of itself without ever getting tripped up, eschewing easy couplets in spite of the track's patterned rhythm, never losing sight of concise articulation, so the listener can glean inspiration from his message.
Tobacco Road tracklisting:
1. "Service" 2. "Trouble Is" 3." Gol'Dust" 4. "Slow Cure" 5. "Back Home (The Return)" 6. "40 Furrows" 7."House" 8. "Winter Takes All" 9."Weather Vane" 10. "40 Acres" 11."Nina Sing" f/Funklove 12."Certitude" f/Chev 13."The Crucible" f/Geologic of Blue Scholars 14. "40 Thieves" 15. "Spits" (inst.) 16. "Nothin' At All" 17."Swell" 18. "Tobacco Road"
Now Hear This: "Tobacco Road" (DOWNLOAD MP3)