What? It's been a long, strange trip for Louisville, KY's My Morning Jacket. For a decade, frontman Jim James and co. have ventured into various sonic frontiers, from reverb-drenched country to reggae. And tomorrow, the quintet — on the cover of Spin's May issue — release their latest and most adventurous outing, the acclaimed set Evil Urges, which finds MMJ exploring the depths of Prince-esque funk, ballroom ballads, and — most importantly — good ole Southern rock.
Who? My Morning Jacket, founded in 1998, now comprises Jim James (guitar/vocals), Tom ("Two-Tone Tommy") Blankenship (bass), Patrick Hallahan (drums), Carl Broemel (guitars), and Bo Koster (keyboards). After releasing two excellent full-lengths, The Tennessee Fire and At Dawn, they were signed to major label offshoot (and Dave Matthews-founded) ATO Records in 2003. Since then, the band have gained worldwide reputation for not only their increasingly diverse sound (realized on 2006's Z) but also for their firebrand live shows.
Fun Fact: The origins of the group's name can be traced back to a coat that James found in the burned wreckage of one of his favorite bars. The letters "MMJ" were embroidered on the coat.
Now Hear This: "I'm Amazed" (DOWNLOAD MP3)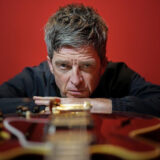 More on SPIN.com:
Spin Cover Story: The James Gang
Cover Photo Shoot: On the Set Video Footage
My Morning Jacket, Evil Urges (ATO)
SXSW '08: Video Interview
My Morning Jacket Announce Lengthy U.S. Tour