As previously reported, Kanye West left more than a few Bonnaroo concertgoers with a sour scowl after he failed to hit the festival's main stage on time, pushing his set — already moved from 8:45 P.M. June 14 — back and forcing fans to wait. And just before the sun began to rise, West finally appeared onstage at 4:45 A.M., some two hours past his already rescheduled 2:45 A.M. set time.
In Bonnaroo's aftermath, much distress about the defunct show swept the Web, with rumors stating West's sun-up appearance was due to numerous reasons, from logistical complications of his Glow in the Dark light show to the absence of the rapper's hairdresser, to Pearl Jam's elongated set — we filmed loads of morning-after fan reactions at Bonnaroo. Either way, West can only handle so many harsh stabs, and now the hip-hop wunderkind has taken to the Web, attempting to clear the air in a heated rant.
"For over a month we went back and forth on whether or not we could even fit my stage at the festival," West writes to his blog kanyeuniversecity.com. "One day they would say yes. We'd send them our specs [and] then they'd say OK. Then they would send specs back that didn't fit the stage.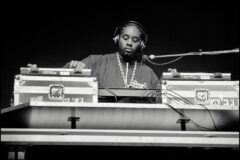 "They tried to give me a time slot where it was still light outside," he continues. "I have a fucking light show dumb ass. It's not called Glow in the Dark for no reason squid brains!" [To read the complete diatribe, visit here]
West goes on to claim his crew was not allowed to set up until after Pearl Jam's departure, and that by the time he got on stage it was drenched in liquid and refuse, and his video screen was busted. "Call me what you want, but never say I didn't give my all," he writes.
True, Kanye West's rant/apology appears genuine in some aspects — and would have been much appreciated at Bonnaroo, to the fans who waited to party with him until the crack of dawn — but if Bonnaroo officials can host many of the earth's biggest bands with out hang up — including Pearl Jam, Metallica, Flaming Lips, and Radiohead — West's needs shouldn't be too grand to accommodate, right? So, dear music fans, who do you think is to blame?