Bonnaroo is a rather unexpected setting for the launching point of Person L, the new band from Kenny Vasoli, former frontman for beloved pop-punk act the Starting Line. But the fact that hand drums were being decorated by tie-dye clad hippies in the tent next to the Troo Music Lounge where Person L took the stage mid-afternoon on Sunday was actually strikingly appropriate.
Boasting two percussionists and a keyboardist playing an old Rhodes, Person L attracted passersby as they dove through a compelling set of new songs like the emotive "Help Yourself" and guitar-driven "Goodness Gracious" — most of which will be on their forthcoming debut album.
Vasoli, who played the bass until recently and still fingers his guitar strings like he's expecting four instead of six, has come a long way since he became one of the beacons of the new pop-punk movement. If this expansive, explorative set at Bonnaroo is any indication, the end of the Starting Line was only the beginning for him.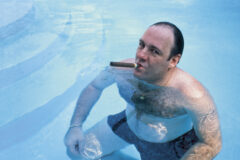 Watch an interview with Person L and a clip of their Bonnaroo set: