"It's disappointing if people expect the characters I play to relate to my real life or my music," Scarlett Johansson said in the May issue of Spin magazine, discussing her forthcoming album of Tom Waits covers, entitled Anywhere I Lay My Head. And with the music video for the record's first single, the broken-heart groucher "Falling Down," off Waits' 1988 opus Big Time, the vast difference between Johansson's real life and the tune's original author's is clearly drawn out — but it's far from disappointing.
Here, as the blonde New Yorker pipes about emotional "wrecking balls" and taking "a swig of that poison," there's no question that she's simply "acting" as, or channeling the charcoal-throated Waits. And the video — an arty montage of Scarlett on the job, traveling, and lounging about — juxtaposes the refined messenger and the weathered letter writer aptly, as whirling white noise, and newfangled instrumentation illuminate the once bare bones and accordion-led tune in a unique, ornate light.
To read the complete interview with Scarlett Johansson, in which she compares herself to Lindsay Lohan and Paris Hilton, and further details her new album, check out Spin's digital edition, or pick up the magazine's hard copy, on store shelves now.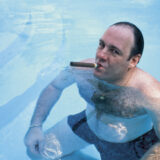 Now Watch This: Scarlett Johansson, "Falling Down"