Here's a rundown of what's available online and in record stores today. Click each album title to read Spin's full review:
What's next? Gerard Way producing a Misfits reunion?
Ellen Allien, Sool
Mixing found sounds, slinky beats, and a touch of romance.
Technically slick, emotionally dim R&B architect goes solo.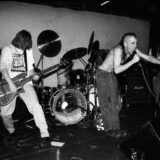 Psych-guitar guru poignantly addresses the void.