"Good evening, children of South by Southwest. Come to me."
Michael Stipe has long been considered a saintly father figure of sorts to indie rock nation, so why not greet the capacity crowd at Stubb's with a fitting benediction? Wearing a knit hat, scarf, sweater, and jacket, the R.E.M. frontman looked like he was more prepared to hail a cab uptown than lead his band through a 90-minute set designed to win over (and win back) an audience of jaded, beer-soaked cranks and bloggerati half his age. But the frenetic one-two punch of "Living Well's the Best Revenge" and "Mansized Wreath," the opening tracks from the redemptive new Accelerate, followed by a lacerating spin through Reckoning's "Second Guessing" a proved a more apt, more complicated greeting: We are not fucking around.
While the positive back-to-basics buzz on Accelerate has been growing for weeks, this is the first time the public at large had heard a big chunk of it (10 out of its 11 songs, to be exact), and there was something jarring about seeing Messrs. Stipe, Buck, and Mills, along with drummer Bill Rieflin, play so indelicately.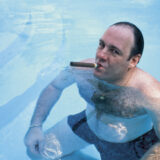 (An aside to the puffy mook next to me yelling, "Shut up! You're old and boring!": Really? Is that what you're taking from this? Because R.E.M. know you're coming in with that attitude, and that's why they're playing the shit out of a 24-year-old catalog gem surrounded by new songs that sound shockingly akin to it. Save your rancor, it's only Wednesday night.)
The new songs seemed to go over well considering the vast number of them, while treats like "Auctioneer (Another Engine)" from 1985's Fables of the Reconstruction were doled out like fish to seals, thanking us for our patience.
But to love R.E.M. is to be confounded and frustrated by them. Sometime just after their dramatic run through "Fall On Me," came the dull "The Great Beyond" and Stipe's anti-Bush/anti-stupid-pop-culture/pro-I-know-famous-people speechifying, visibly deflating the crowd and putting the lie to the idea that the band might just let the music do the talking for them. Introducing the three-song mini-set of the new "Until the Day Is Done" (approved by Heath Ledger before his death, we needed to know), and recent, not-particularly-beloved songs "Final Straw" and "Bad Day" as a political trilogy of some sort, Stipe was now giving tacit permission for us to go wait on the long porta-potty line or refresh our Shiner Bocks. Many abided.
The set picked back up — the Accelerate standout "Horse to Water," a muscular, snarling version of Up's "Walk Unafraid" — and the encore-closing "Man on the Moon" mollified the we're-just-here-for-the-hits contingent, but ultimately there was this underlying wish that R.E.M. would stick to the own script it had seemed they'd written: Taken-for-granted stadium-rock act returns to the basement, if only metaphorically, then blows away soused snobs with gritty new songs and attitude. Or, fuck, maybe I wrote that script.