LoveLikeFirefrontwoman Ann Yu's tremulous, haunting vocal style combines elementsof CocoRosie, Karen O and Portishead's Beth Gibbons, while thedelicately woven threads of synthesizer, piano and guitar form anorchestral dream-pop tapestry in "I Will." The carnival-themed videofor this trippy tune would not have been possible without the help of afew new friends; filmmakers Thomas Barndt and Samara St. Croix a.k.a. Tom and Samara, who randomly discovered the group via MySpace.
Filmedon Tom and Samara's signature Super 16mm, the video is presented inmultiple frames, giving the impression of old stock footage on a reel.Each band member stars as themselves and as carnival folk at work ontheir respective circus-like fare. Amidst a montage of rapid time-lapsefootage and Ed Wood-style explosions, Robert Kissinger (bass)is repeatedly shot out of a cannon like a cartoon daredevil. This humancannonball is presumably who Yu alludes to in the chorus: "I'm a star /I conquer the world / Destroy all my enemies." At one point the bandends up trapped in a cage at the foot of a static movie monster, withonly Kissinger's superimposed silhouette to save them. Can he do it?LoveLikeFire's self-released LP An Ocean in the Air is available now.
Now Watch This: LoveLikeFire — "I Will" https://www.youtube.com/embed/iyaH0pk6Y_0 On the Web: LoveLikeFire at MySpace lovelikefire.com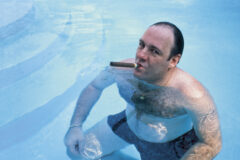 Talk: Would you want to shoot out of a cannonball?