There's something counterintuitive about an insanely catchyinstrumental jam, but as the Octopus Project demonstrates with "Truck,"maybe that's just how they do it under the sea. Blipping with blazingspeed, the group's signature warbling Theremin, conducive to dramaticnumbers, takes the track off letting an unswerving synth pierce withsharp high-end, displaying the Project's more lively side. Soundingsuper-charged, "Truck" receives a clip faithful to the song's fury withthese accompanying visuals directed by the Zellner Bros.
Inconstant fast-forward, the video joins the aural and the aerial in apatriotic afternoon of military vehicles, an air show, and a corn dog(with mustard). Also present are some perfectly synched bombdetonations coordinated expertly with exploding cymbals at the song'spinnacle. In this visual treatment the Austin, Texas quartet areabsent, letting Middle America stand — or rather, sit — in. Lawnchairs, that is. But doctored with skilled animation, the blue-skiedday ends up looking like an invasion from a kid's notebook, withsketched animal heads super-imposed, looking torn straight fromloose-leaf doodles. A quirky video for a captivating song — shhhh, wait …do you hear that? That's the very distinct sound of a band going buzz. The Octopus Project's new LP Hello, Avalanche is out now via the Peek-A-Boo label.
Now Watch This:
The Octopus Project – "Truck"
On the Web:
The Octopus Project at MySpace
theoctopusproject.com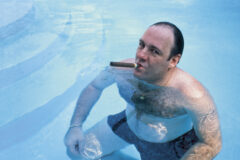 Talk: Do the Octopus Project 'truck' the buzz-band competition?
More on the Octopus Project:
Watch the Octopus Project Live! – The Pool Parties