Full disclosure: I know an awful lot about Shudder to Think. If you do too, and want to skip down to the show review and videos, click here.
For the unfamiliar, let me continue. Shudder to Think were the first band to grant this D.C.-area high school student of the early '90s an interview, and their graciousness certainly helped propel me into this career (although an aborted chat with Evan Dando several months later nearly shattered my confidence, but that's for another day). But Shudder wasn't only crucial to me because of that interview. I was a huge fan, mesmerized by the way their sound fluctuated from verse to chorus to bridge, from flamboyant and glammy to staunchly aggressive to unnervingly sweet.
And from a completely peripheral perspective, they defined "cred" to me, back in those formative years, for this reason: They left D.C. for New York, waded through a major label bidding war, signed to Epic (garnering a sizeable amount of disdain from many fans and scenesters), then returned with a major label debut, Pony Express Record, that was the most brilliantly conceived, complex, and, ultimately, commercially inaccessible record they could possibly make — "a clusterfuck of a record," guitarist Nathan Larson calls it on his website. If you don't own it, do yourself a favor.
Shudder to Think played their last show in 1999 at New York's Knitting Factory and disbanded cordially, but the band's members stayed fresh: Frontman Craig Wedren released a solo album and scored films and TV shows with his buddies Michael Showalter and David Wain; Larson married Cardigans singer Nina Persson, also dropped a solo album, and teamed with Shudder drummer Kevin March under the Hot One moniker last year; and March, who started out with the Dambuilders before joining Shudder late in their career, played with Guided By Voices and backed Wedren on his solo effort.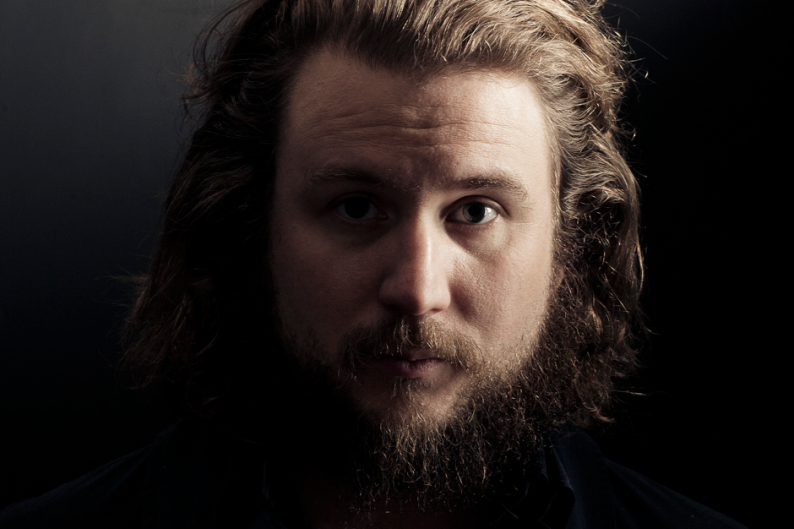 Last night, the stars aligned for Shudder, thanks to Rain Phoenix, whose band Papercranes are booked for a Monday residency all month at NYC's Mercury Lounge. Phoenix invited both Craig Wedren, performing as a solo artist, and A Camp, a new band featuring Larson and Persson, to join last night's bill. Conveniently drumming for both Craig and A Camp: Kevin March. I was already slated to go to the show, and on Friday was completely thrilled to discover that half of Craig's set would be a mini-reunion featuring Craig, Nathan, and Kevin playing Shudder to Think songs.
A fairly-packed room that was lapping up Wedren's set of solo songs and movie contributions — including the particularly gorgeous "Born Curious" from The Baxter — erupted in raucous cheers when Wedren and his band unfurled the initial blasts of Pony Express Record's "X-French Tee Shirt." Midway through, Larson strolled across the stage to even louder huzzahs, strapped on his guitar, and joined the assault already underway. Wedren even repeated a verse to give his old bandmate ample time to get sorted.
And there they were: Craig Wedren, Nathan Larson, and Kevin March, playing Shudder to Think, and joined by Time of Orchids bassist Jesse Krakow and guitarist Mark Watrous, most recently of Gosling. Watrous stayed on for some backing vocals on the classic, "Red House" (after which my college radio show was named), then gave the stage to Larson, who quickly slipped into his gnarly Shudder persona, replete with jerky hacks at his guitar and aggressive gum chewing. Here's what they played first:
"X-French Tee Shirt," from Pony Express Record
"Red House," from Funeral at the Movies
"Lies About the Sky," from Funeral at the Movies
"No Rm. 9, Kentucky," from Pony Express Record
Then, Wedren invited Nina Persson up to duet on "Day Ditty," a delicate Shudder softie from their first record that Wedren wrote when he was 19. They closed with "Appalachian Lullaby," which Persson sings with Shudder on the soundtrack to First Love, Last Rites; it's the song that brought Persson and Larson together for the first time. "When we wrote this song, we knew only two people could sing it: Björk, or that chick from the Cardigans," Wedren quipped.
And so it ended, a very casual but completely satisfying mini-reunion. Are they thinking about pushing things forward as Shudder to Think, maybe just on a temporary basis? I have good reason to think so, and we'll keep you posted if they do. PETER GASTON
Here's some digital camera video from last night: