As his dazzling, rain-soaked Super Bowl appearance earlier this year reminded us, Prince can be the biggest star in the world any time he wants. If he chooses to turn it on, all you can do is stand back and let him blow the top of your head off. With Planet Earth, the world's funkiest Jehovah's Witness proves that after his mind-melting early years and a decade spent wandering in the wilderness, his career is now squarely in the midst of its third act — the one in which he concludes that he really does give a hoot, after all.
Following 2004's solid if overrated Musicology and last year's weird, underappreciated 3121, he now caps this renaissance with Planet Earth, a (very loose) concept album that opens and closes with meditations on the futility of war. The record also marks Prince's return to the world of pop, which, for one thing, means unleashing his guitar, an instrument he's doled out sparingly as of late. From the chiming U2 bite that drives first single "Guitar" to the soaring, "Purple Rain"-style coda on the title track, Planet Earth places him back in six-string superhero territory.
Beyond that, though, these ten songs are focused and playful in ways that recall earlier triumphs, like 1986's Parade. Loopiest is the funk workout "Chelsea Rodgers"-beginning with the dubious assertion that "a model used to be a role model," it's an elaborate, detailed character sketch of an intellectual hippie glamour girl, climaxing in an uproarious chant of "Shake it like a Juicy Juice!" The candy-coated strut "The One U Wanna C" is joyously irresistible, and "All the Midnights in the World," which could almost be a lost Burt Bacharach hit from the '60s, is a marvel of concision.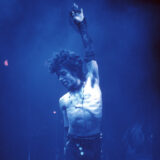 Points off for rhyming "baby mama" with "drama" on the slow jam "Future Baby Mama" and for the rather lifeless bedroom rapping on "Mr. Goodnight" ("I got a mind full of good intentions / And a mouthful of Raisinets"?), but otherwise there are very few missteps on Planet Earth. The album isn't showy, yet Prince's range — the Philly soul of "Somewhere Here on Earth," the gradually explosive "Lion of Judah" — remains so effortless that it's easy to overlook.
In fact, the hardest thing at this point is fairly assessing an artist who demonstrated long ago that his music is in a category of its own. Is there an immortal, life-changing single like "Kiss" or "Little Red Corvette" here? Is there anything that we haven't heard Prince do before? Well, no. But is there another musician in the world who is capable of even half the things on this album? Planet Earth is a consistent, exhilarating winner from our reigning genius. So rejoice, celebrate. Pray that he gets back on the road soon. Shake it like a Juicy Juice!
BUY: