It doesn't get any cuter than ex-Weezer bassist Matt Sharp. Set against a silver curtain, his trademark horn-rimmed glasses and crew cut askew, Sharp leads his five-member crew (and "Friends of P.") best known as The Rentals towards a supersonic examination of the "Last Romantic Day," one of the few heartbreakers featured on the band's latest release, The Last Little Life EP. This little charmer, recorded exclusively for SPIN.com during the band's July residency opener at Los Angeles' Spaceland venue, is a happy-go-lucky blend of vibrant strings, chug-along drums, call response chorus, shimmering oohs and ahhs and as always, sugar-snappy lyrics penned by Sharp truly — "It's the first date / In the day time / Boy you show age / In the bright lights." A roving handheld camera travels through the meandering bandmates offset by smiles, violins clutched like prayer books and Sharp's poised performance. The ecstatic acoustic heights reached by "Day"'s conclusion leads one to disbelief — who says romance is dead?
Now Watch This:
The Rentals – "Last Romantic Day"
On the Web:
The Rentals at MySpace
therentals.com
Talk: How would you spend your 'last romantic day' with The Rentals?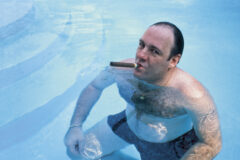 Get a Free Digital Sampler from SPIN.com and Insound!
When you spend $25 at Insound.com, you can download a free sampler featuring tracks from Bright Eyes, Dungen, Dinosaur Jr., and many more! FIND OUT HOW >>