Despite a vicious, ironic allergy to pond water (seriously!), Philadelphia-reared songman Matt Pond, frontman and namesake of Matt Pond PA, loves swimming. Enduring horrible cell phone reception and speaking to SPIN.com from upstate New York between bouts of paddling in a friend's backyard pool, Pond discusses how this love of water has environmentally shaped his forthcoming studio effort, the glimmering Last Light, and divulges its collaborations, including contributions from Neko Case and Rob Schnapf, and his uncertain future.
"I don't want to say I'm living in a van, but I'm between New York and New Hampshire and wherever there's somewhere to swim," Pond shared on his fluctuating inhabitance. But while Pond's whereabouts have remained chaotic, bouncing across the Eastern Seaboard over the last two years, the songwriter has found time write a vast collection of material, hole up in a few different studios, and record the 13-track opus Last Light, which will drop to store shelves Sept. 25 via the Altitude imprint. The album's bulk was put to tape in Bearsville, NY with a new cast of band members and an impressive list of collaborators, most notably, especially for Pond himself, is Neko Case.
"Her record blew my mind and so I wrote my songs listening to her record, and it came out of doing that," Pond said on the effect of Case's Fox Confessor Brings the Flood and its ensuing musical influence. "There was intimidation, being like, um, 'Heyyyyyyy, you wanna make this thing? You don't have to! You don't have to!'" But Case agreed, and the result is album gem "Taught to Look Away."
And additional collaborations came together in similar fashion, through an admiration, and eventually, a phone call. "It was mostly simple requests and showing them a song, Pond told SPIN.com, "and if they wanted to do it, that was cool." 'They' refers contributors Isobel Sollenberger (Bardo Pond), Rob Schnapf (Elliott Smith, Beck), John O'Mahoney (Metric), Taylor Locke (Rooney), Mike Stroud (Ratatat), and Thom Monahan (Pernice Brothers, Devendra Banhart), all musicians or production masterminds Pond claims subscribe to work ethics with "less bullshit" and enabled him to "make it [Last Light] the way I wanted it to."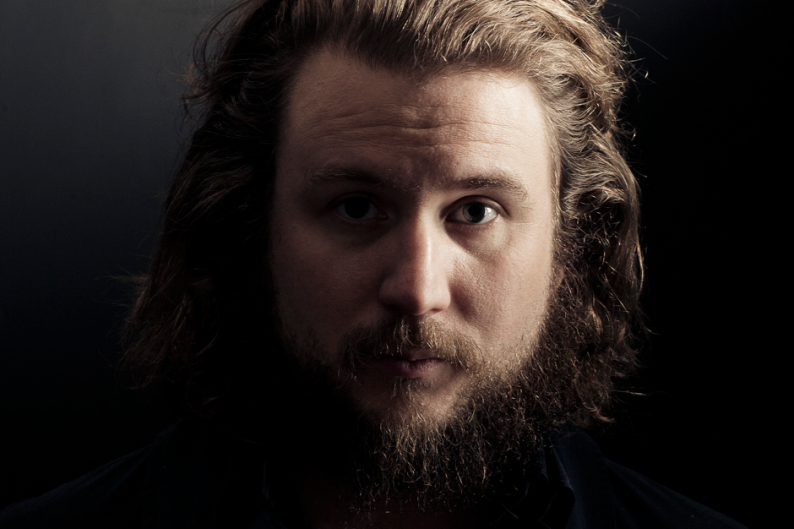 Pond, who sees creating music as an evolving, constructive argument, also recorded in Bearsville alongside a newfound band, including drummer Dan Crowell, guitarist Steven Jewett, and bassist Matthew Daniel Siskin, a less argumentative group — Matt Pond PA's previous incarnation slowly dissolved — but one which provides much needed creative friction — a tension that translated to musical "energy" during a band session in Los Angeles alongside Rob Schnapf.
"That was probably the most fun I've ever had recording," Pond told SPIN.com of the L.A. sessions, which the album's most telling track "Sunlight" was recorded. "I hate to say things about energy, but it does exist, and it's not like people were excited or jumping off the walls or anything. They were focused and they were into it."
Though on the heels of years of tumultuous band lineups and a chaotic period slowly piecing together Last Light, Pond reassures that no settling remains in his imminent future. "I'm thinking like, not seeing a place I call home [wherever that is…] for six months. If that's not the case then we're probably doing something wrong," Pond states about the band's forthcoming, evidently lengthy U.S. tour. "It's also frustrating, too, because I don't know where I'm staying sometimes and I don't really know exactly what's going to happen in the future," Pond reflects with the voice of a weathered wandered. "I feel like it's a better way to live sometimes although it makes you crazy sometimes and you feel like you're going to have a nervous breakdown." He pauses, a brief moment of silence passes, "Fuck it! I'm just gonna go into the water again." WILLIAM GOODMAN
Matt Pond PA tour dates:
9/27, Boston, MA (Paradise Rock Club)
9/28, New York, NY (Bowery Ballroom)
9/29, Hoboken, NJ (Maxwell's)
10/1, Washington, D.C. (9:30 Club)
10/2, Pittsburgh, PA (Diesel)
10/4, Columbus, OH (The Basement)
10/5, Detroit, MI (Magic Stick)
10/6, Cleveland, OH (Grog Shop)
10/7, Chicago, IL (Double Door)
10/8, Minneapolis, MI (Varsity Theater)
10/11, Vancouver, BC (The Plaza Club)
10/12, Portland, OR (Doug Fir)
10/14, Seattle, WA (Chop Suey)
10/16, San Francisco, CA (Great American Music Hall)
10/17, Los Angeles, CA (The Troubadour)
10/19, San Diego, CA (The Casbah)
10/20, Phoenix, AZ (Modified Arts)
10/22, Dallas, TX (Cambridge Room)
10/23, Austin, TX (Antone's)
10/24, Houston, TX (Meridian)
10/26, Atlanta, GA (The Loft)
10/28, Birmingham, AL (Vulcan Park)
10/29, Nashville, TN (Exit In)