The eager, smooth-voiced Q101 radio jock worked himself into the requisite I'm-not-just-saying-this- because-I'm-paid-to lather, babbling on about how long it's been since the next act to grace the AT&T stage has played Chicago, eventually booming loud enough so that his platitudes reverberated all the way back to the food court:
"It is my honor and privilege! ladies and gentlemen, SILVERCHAIR!!!!!"
To refresh, Silverchair are an Australian band who released their debut album Frogstomp in 1995 when the trio were all 15 years old. "Tomorrow," an exact cross-breeding of Nirvana and Pearl Jam, was a substantial radio/MTV hit and singer-songwriter Daniel Johns (with his soulful eyes and scraggly blond hair) became an odd tiny-tot-Cobain heartthrob prodigy. Afterwards, the band's commercial prospects quickly dried up (despite continuing huge success at home), Johns suffered an eating disorder and endured an artistic crisis, renouncing neo-grunge and working with Beach Boys collaborator Van Dyke Parks. Critically, the band's records were better received in America, but sales never recovered. Their fifth album, Young Modern, came out in March, and arrived in the U.S. last week.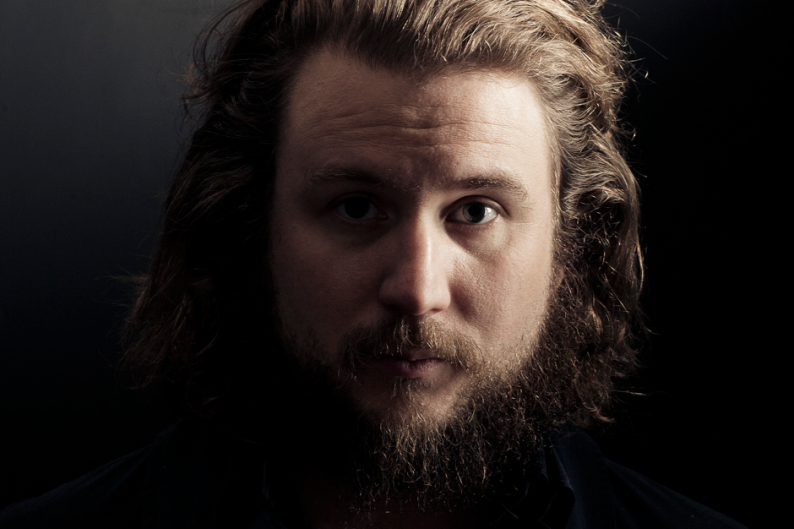 What's most strange, after such a winding journey, is that Silverchair now sounds so passionately generic. At Lolla, they were classic arena rock, sorta catchy, sorta angsty, sorta ponderous, sorta silly, sorta OK. Johns wore a headband, took off his shirt, and played too many solos. In other words, the perfectly inoffensive soundtrack for a station like Q101, which was once Chicago's '90s alternative mainstay, but has struggled over the years, going slightly harder rock (Metallica) and then compromising on today's "Everything Alternative" format, which they refer to as being "on shuffle" (in a sad nod to iPod dominance), i.e., a mix of '80s, '90s, and current rock. Here's a list of ten bands the Q played in a row yesterday: Toad the Wet Sprocket, Boys Like Girls, Candlebox, Coldplay, Foo Fighters, Beastie Boys, Yellowcard, Radiohead, Quietdrive, Fuel. Yeah, I feel like banging a copy of the SPIN Alternative Record Guide against my skull until I'm unconscious too.
Interestingly, the only other band of Lolla's first two days that I heard receive a similarly overzealous, radio-bro intro was Jack's Mannequin, a.k.a., Andrew McMahon, former lead singer of piano-driven pop-punks Something Corporate. On his own, McMahon's music is like if Billy Joel grew up in Orange County and had his life changed by working the counter at a Hot Topic. It's the kind of rote hackery that's supposed to move you to tears while you're driving down the PCH in your SUV after getting your teeth whitened and buying Entourage on DVD. No wonder the guy from Q101 was agog.
Still, there's a large core of people whose musical tastes were fully formed by alternative radio in the '90s and early 2000s, and even though that industry is becoming more irrelevant in a broad sense, those folks still wanna hear music that reminds them of the best of the guiltless, post-Nirvana, arena-embracing, sonic-overload cavalcade that stretched from Smashing Pumpkins to Radiohead to latter Green Day. Big riffs, big lights, but not emo. Preferably a little Anglo.
Hence, Muse.
But before getting into all that, there were a variety of small pleasures throughout the day and early evening:
Minneapolis' Tapes 'n Tapes, who became unlikely indie-rock darlings over the past couple of years for their tunefully scruffy, if not terribly groundbreaking update of the Pavement/Modest Mouse syllabus, grew into an actual force before a massive throng, with their bigger-than-ever sound swaying, driving and pulsing rather than just meandering.
Young R&B/soul singer-songwriter Kevin Michael, with his giant pillowy afro and conversational falsetto, has a promising new album out in September on Downtown, but at 22, he's more geeked than assured onstage. And when you have Lupe Fiasco rap on your record, you probably shouldn't have a random white guitar player start rhyming in your live show.
Chicago's own "wacktose intolerant" MC Rhymefest rollicked and mugged and, at times, slogged through a set with a too-intrusive live band (including horn section) before an only-decent turnout on a side stage. Though it was more overcast and breezy than Friday's hotbox, and rain started to fall, 'Fest withstood sound problems and energetically blew through new songs he's been working on with Just Blaze and "Jesus Walks" partner Kanye West. Also, in a first, he brought his band out to the front of the stage so fans could take a "Myspace picture," and then asked everybody to email their photos to him. Maybe they should just but another copy of Blue Collar instead.
If you were wondering, yes, the indie-rock tofu scramble that is Clap Your Hands Say Yeah does translate surprisingly well to a large festival stage. Just so you know.
But it doesn't tranlate as well as everybody's favorite band of goony dudes at the bar who just won't stop babbling about whether Tony Oliva belongs in the Baseball Hall of Fame or whether the piano intro on "Candy's Room" is a more powerful cultural moment than Barack Obama running for president — ladies and germs, the Hold Steady. Led by the glowingly sunburned and wildly gesticulating Craig Finn, who was swallowed by a Ron Gardenhire/Minnesota Twins jersey, the band's windy dissertations on advanced rock poesy and guitar-solo theory have become tight, even concise blasts of conflicted exuberance, per the character studies on 2006's Boys and Girls in America. It's hard to endorse the unfortunate Blues Traveler-ish harmonica bleats, but otherwise, yeah.
In an April 2006 Spin cover story, the Yeah Yeah Yeahs sounded like they were as good as broken up. Karen O was in Los Angeles contemplating a solo career and acting options; back in New York, guitarist Nick Zinner spoke as if he were in mourning over the band's prospects; drummer Brian Chase appeared to be detaching; and none of the three members were really talking to each other. Show Your Bones, their brooding second record for Interscope, didn't sell well especially well (the ballad "Cheated Hearts" was more defiant than heartbroken and didn't achieve "Maps"-like success). So why, now, is the band suddenly making some of the most exhilarating, powerful music of their career? Did somebody at the record company sit them down and say, "Listen, we've got this piece of paper here called a contract and it appears to say that you've gotta manage to get along with each other long enough to make these things called albums that we need to try and market to whatever fans you might have"? Whatever the case, the new EP Is Is deftly expands on both their roaring and reflective sides. And live, they were ablaze, as Karen O thrashed and giggled in a black vinyl zipper dress, black stockings with criss-crossing stripes that came off like an electrical-tape-bondage in-joke, and a huge cape, fedora and wig, all adorned with what appeared to be 20 boxes of tinsel, so at times she looked like a feral flapper going as the Shaggy D.A. to a Halloween bash. And at the same time, her manic, hit-it-sideways sexuality was left strewn all over the stage. For somebody who seemed bored by rock music a year ago, she now seems on a mission to spit her crazed joy in the face of the world. If M.I.A. had Karen O's onstage charisma, Missy Elliott would be on a plane right now.
Spoon's Britt Daniel is not a physically imposing man — in fact, he looks kind of like an open parentheses in dress shirt and slacks — but his music is such an exquisitely honed throb of terse riffs and melodic jolts and romantic lilts that over the course of an hour set you feel like just letting him, and the rest of his masterfully minimal band, elbow and nudge and push you wherever the hell they want you to go. If Joe Jackson had stayed focused on pop-rock and chilled out and aged gracefully — with an edge — after I'm the Man and Look Sharp, he might've made music this intensely on point. Maybe.
And then there was Muse. The Britpop trio's moony fantasias are the polar opposite of Spoon's natty novellas, and to the surprise of many of us who have tried to ignore them as a blatant Radiohead rip with the authentic intensity of Jersey Boys, they are now massively popular, headlining Madison Square Garden Monday night. The Lolla grounds were packed as Matt Bellamy and co. opened with a taped excerpt from a 1961 speech by President Kennedy to the American Newspaper Publishers Association, in which he said: "This administration intends to be candid about its errors for, as a wise man once said, 'an error doesn't become a mistake until you refuse to correct it.' We intend to accept full responsibility for our errors, and we expect you to point them out when we miss them."
Dubya point taken, but on the other hand, what the fuck does that have to do with Muse? While Daft Punk's laser show the night before was all about acknowledging the absurdity of technological progress and having a goofy blast in the meantime, Muse's self-aggrandizing multimedia spectacular was the equivalent of being trapped inside a life-size Liberace video game while some noodnik plays faux-Soundgarden guitar and a board-shorts mook spills Bud Light on you repeatedly while barking, "Sorry, brah!" I know there was a lot of talk about how My Chemical Romance were influenced by Queen on their last album, and the Darkness made a big deal out of employing Queen producer Roy Thomas Baker, but those guys are pikers compared to the Queeniness of Muse. With the whinnying-horse synths, and operatically challenged vocals, Bellamy re-enacts A Day at the Races with full-bore banal conviction. And when he sits down at the piano and blusters through Nina Simone's "Feeling Good" (using a megaphone at one point), it's a travesty. Of course, Simone didn't write that song — Anthony Newley and Leslie Briscusse did for the musical The Roar of the Greasepaint — The Smell of the Crowd — so maybe it makes twisted sense, but still. Then there was the A-Bomb preparation footage, the squiggly techno flourishes, the trippy insect videos, the decadent, self-indulgence masquerading as romantic rebellion. How could a band manage to pull together so many disparate interesting influences with such professional shamelessness.
And finally, it clicked, Jane's Addiction!
Check, please.