Colin Meloy: creative mastermind behind the Decemberists, Stephen Colbert's former nemesis, choice comedian? Indeed. The intelli-pop ingénue continues to make his mark on the Comedy Central network thanks to an upcoming vocal cameo on the animated series Lil' Bush. The irreverent new show has been boasting belly laughs all summer long, making the trials and tribulations of the President just a little loveable as he's depicted as no more than a two-dimensional Weeble.
Previous episodes have featured the likes of punk rock diplomat Iggy Pop as "Lil' Rummy" and his holiness Jeff Tweedy as none other than God, or affectionately known as "Goddy" to the miniature Commander-in-Chief. Meloy makes a modest mockery of brother and Florida governor Jeb Bush.
In this preview clip, Meloy's sudden smarts make themselves evident in the speed or, say, a "flash in the pan." See for yourself as the season finale airs tomorrow night at 10:30 P.M. EST.
Now Watch This: Lil' Bush – "Jeb Gets Smart"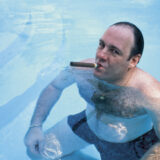 On the Web:
Lil' Bush at Comedy Central
decemberists.com
Talk: Meloy and Lil' Bush: hilarious or horrid?
Get a Free Digital Sampler from SPIN.com and Insound!
When you spend $25 at Insound.com, you can download a free sampler featuring tracks from Bright Eyes, Dungen, Dinosaur Jr., and many more! FIND OUT HOW >>