It's hard to believe that sultry singer/songwriter Cary Brothers is just now releasing his full-length debut years after pining for "Blue Eyes" via Zach Braff's 2004 award-winning Garden State soundtrack. In the video for the album's title track "Who You Are," Brothers literally comes out swinging in an ornate narrative familiar to many of us: the high school prom.
Directed by the legendary Phil Harder (Foo Fighters, Incubus, Barenaked Ladies), "Who You Are" depicts your typical silver screen formal finale — the date dilemma, the outcast rising like a phoenix, demanding his due, and the "special" bowl of punch arranged by bullying tricksters. It's a certified celebration as the video features Brothers' fervent MySpace fans as extras, while Brothers' girlfriend, actress Sarah Jones, who plays Brynn on HBO's Big Love, also makes a cameo. It may seem like your average John Hughes-cum-late '90s teen scene dream, but Brothers' bash ends in a rambunctious rampage Hollywood would rarely be capable of relaying. It's an adolescent adventure drowning in Mylar, lamé, and confetti with Brother's introspective guitar-driven power pop as a befitting background. Put on your corsages and cummerbunds — Cary Brothers is challenging Who You Are (available now via the New York-based Bluhammock label).
Now Watch This:
Cary Brothers — "Who You Are" WINDOWS MEDIA
On the Web:
Cary Brothers at MySpace
carybrothers.com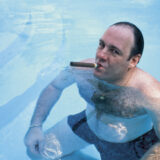 Talk: Does Cary Brothers deserve the prom king crown?
Get a Free Digital Sampler from SPIN.com and Insound!
When you spend $25 at Insound.com, you can download a free sampler featuring tracks from Bright Eyes, Dungen, Dinosaur Jr., and many more! FIND OUT HOW >>