Last time I left off, I was falling asleep on a couch in the basement of the Junior Varsity's house in Springfield, Ill. The windowless room allowed me to sleep until mid-afternoon where I found the house still strewn with band members, all stretched across the couches, air mattresses and sleeping bags seemingly laid across every open inch of carpeted floor.
Some of the guys brought me downtown for lunch and I saw the little capital city. Its pride in having been the home of Abraham Lincoln bursts out of every crack in the pavement, within the name of most every official building. Coming from a more metropolitan corner of the country, I love being allowed to casually experience small town life for a stretch, especially in the Midwest. The Junior Varsity, being from all around the state, booked us shows in areas that aren't frequented every day by touring bands. I got back to the house to find each van packed and ready head to El Paso, a little town an hour and a half away.
We played in a VFW hall that night (June 20) and I think it may have been my favorite show of the tour. The little room was full and the kids who came out were excited to watch, open to new music, willing to show that they liked something new. We rediscovered our energy at that one, playing on the concrete floor on one side of the room, people pressed up against us. Then we cracked some beers in Thunderbirds are Now!'s van in the parking lot, the designated backstage room, and watched the fireflies come out; only the second or third time I'd ever seen fireflies. I wandered around between bands and checked out the surrounding area, closed shops and railroad tracks, perfect rectangles of grass. There was a memorial to World War I & II, where I stood for a moment in the dark, beneath the cliché clinking of the flagpole, a bit overwhelmed by the amount of lives lost directly from that community especially considering how many of them shared the same last names.
The events of that evening back at the Junior Varsity house might be best described by the state of the place at around 7 A.M. the following morning (June 21). Again, the furniture was draped with snoring musicians, the railings of the back porch lined with empty cans of Pabst, cigarette butts and more crushed cans lined the pavement beside smashed pieces of yard working equipment and charred roman candles. Inside, it was more and more and more empty beer cans, poker chips stacked on the table, acoustic guitars precariously leaning on the couches, voices still trickling in from the front porch.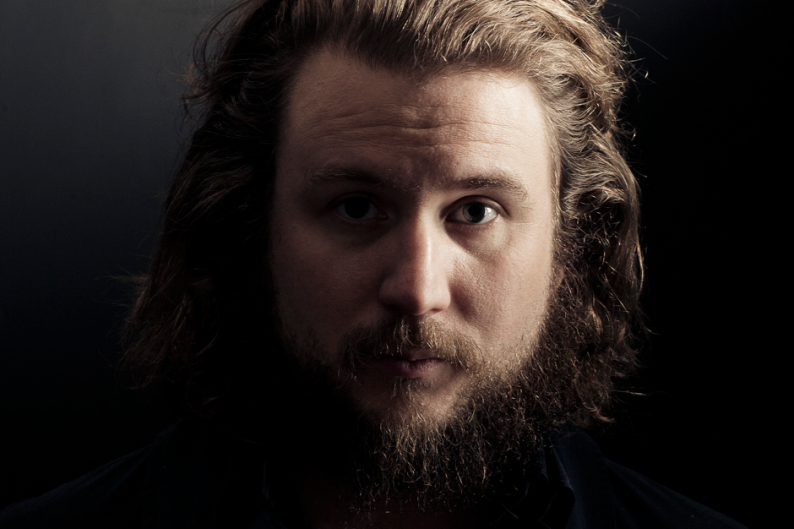 When everyone was completely awake around 5 P.M. we left for our show in Decatur, at a place called Wake the Dead. Now, from the name I expected something strange, but was not fully prepared for what we found. Carefully climbing the steep and unstable metal staircase with our equipment to the second story of a dilapidating warehouse, we looked out on smoking factories, dreading what injuries one slip could cause. Inside it appeared as if they had never taken down their elaborate Halloween decorations. Fake cobwebs hung from the ceiling above oversized candles and gothic looking crosses. The girl sitting beside me selling merch for a local band explained to me that the place is somehow a Christian church with Goth twist, but being the only place to play in town, it was tolerable. It was hellishly hot inside and as I tried to catch my breath in the parking lot after our set my clothes were so soaked in sweat that I felt as if I'd been swimming in them.
In Chicago the next night (June 22), the three bands capped off the tour by sitting on the side of the stage for each other's sets, jumping up to turn certain songs into big clunky jam sessions and drunken sing-alongs. It was a common sight that evening to see a microphone being shared by three or four guys from different bands. We all said our long goodbyes out in the street after the show.
Our buddies from Anathallo came out to the show and kindly put us and Thunderbirds up for the last two nights, pointed us in the direction of a good time in the city. Bryce and I wandered around The Loop yesterday (June 23) and craned upward at the monstrous buildings, then we caught Piebald, who we spent a few great weeks with earlier this year, at the Metro. Despite being in a competitive business, filled with strange and sensitive people, I find that touring musicians tend to open up to one another in a very genuine way. Good tour or bad tour, you all go through a lot of shit on the road and need reminders to keep your head up, need people you respect to tell you that they think you're doing good, need someone to be excited for the successes you're having, to hear out your laments. I appreciate these acquaintances so much.
Now we are heading West all alone, playing just a few more shows to get us back to California. Listening to songs from early Beatles records as we cross through Nebraska, we all seem to be in our own little worlds. I find that my mind tends to get home a week before my body. I can only assume the same for Joey, Bryce, and Will.
— Dave