Since shedding her endearing silver screen neurosis for the rawk of 2005's You're Speaking My Language, Juliette Lewis and her backing band the Licks break out with a vengeance once again. Behold the new video for "Sticky Honey", one of the many rock nuggets featured on the band's forthcoming album, Four on the Floor. Making an impressive homage to comic book kitsch that contains as many giggles as absolute rock-out toe-taps, Lewis, with her leather and lace-like leotard and a crown of sparkles, transforms into a glam-rock Wonder Woman and narrowly escapes the wrath of an evil clan of skeletons and their robot master.
From jailbird-clad bandits to trap doors and laser-endowed guitars, it's a far cry from Natural Born Killers or The Other Sister — but Juliette and the Licks' good time, bare-bones rock'n'roll is straightforward and full of sass in this retro aerobics action-adventure. Surrender to the superpower of Juliette and the Licks — Four on the Floor, the band's sophomore effort and debut LP for Militia Group, arrives July 24th.
Now Watch This: Juliette and the Licks – "Sticky Honey" VIEW
On the Web:
Juliette and the Licks at MySpace
julietteandthelicks.com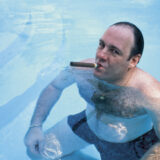 Talk: Is "Sticky Honey" sweet enough for you?
Get a Free Digital Sampler from SPIN.com and Insound!
When you spend $25 at Insound.com, you can download a free sampler featuring tracks from Bright Eyes, Dungen, Dinosaur Jr., and many more! FIND OUT HOW >>