In preparation for the release of Spider-Man 3: The Official Soundtrack, SPIN.com caught up with New York City's own indie rock web slingers the Walkmen in their ramshackle Manhattan rehearsal space for an exclusive interview and live rendition of "Red River," the band's forthcoming single, penned exclusively for the film.
The band — none of whom possess shelves of Spidey lunch boxes, figurines, or comic books — delivered a seasoned interpretation of the webbed one's MO; Cityscape twinkles, lofty dynamics, driving dip and weave rhythms, and frontman Hamilton Leithauser's strained Peter Parker reflective lyrics — "I step out in the darkness / Around the firelight … I'm going now / but I'll be by tonight / I'll get held up by this heart of mine." Oh, Mary Jane, what a heart breaker.
Spider-Man 3: The Official Soundtrack, featuring original tracks from bands like Snow Patrol, the Killers, Yeah Yeah Yeahs, and Wolfmother, is available on store shelves now.
Now Watch This:
"Red River" (Live for SPIN.com) WATCH
An Interview with the Walkmen WATCH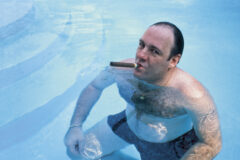 On the Web:
spiderman3soundtrack.com