Well, it's not radio, and it's not a live transmission, but we do have some early glimpses to share from Control, the much-discussed, Anton Corbijn-directed biopic that chronicles the life of Joy Division singer Ian Curtis. The film premiered last week at the Cannes film festival, and early reviews on IFC and a number of British publications have raved about relative newcomer Sam Riley's portrayal of Curtis, who killed himself at age 23 just as Joy Division were about to embark on their first American tour.
What's apparent from these clips: Anton Corbijn has filmed the tale in the washed out manner familiar to those who've adored his videos; Depeche Mode's "Enjoy the Silence" comes to mind as a most apt parallel to Control's aesthetic, although the film is shot in hazy black-and-white. But while it does look gorgeous, and while Riley seems completely capable of replicating Curtis' seizures and almost equally spastic on-stage demeanor, even these brief glimpses depict scenes explored in 2002's 24 Hour Party People: The studio sessions with Martin Hannett (portrayed brilliantly in the older film by Andy Serkis, a.k.a. Gollum from Lord of the Rings), the chats with Tony Wilson (played with equal aplomb by Steve Coogan in Party People), the onstage brawl. This is not good news.
But the trailer certainly contains loads of interaction between Curtis and his wife, Deborah, played by Oscar-nominee Samantha Morton (In America, Sweet & Lowdown) — after all, the film is based on Deborah's memoir, Touching From a Distance. Here's hoping we get deeper into Curtis' short life than the brilliant Party People afforded us. PETER GASTON
Now Watch This:
A clip from Control, via telerama.fr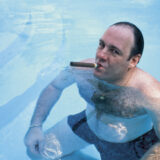 Control trailer
https://www.youtube.com/embed/3JHQkoGHcx4
On the Web:
controlthemovie.com
Talk: Can Control step out of 24-Hour Party People's shadow?