Tonight (May 4), burly punk rock icon and performing cultural critic Henry Rollins resumes the second season of his weekly late night residency on IFC with a special hour-long episode of The Henry Rollins Show. And guess who decided to drop by? Another seminal punk by the name of Iggy Pop, who arrived ready rock, complete with his recently reunited band, the Stooges.
Beginning at 11 P.M. EST/8 P.M. PST on IFC, Rollins will serve up a diverse and entertaining palette of insightful interviews and musical performances, both satisfied by Iggy Pop and the Stooges. In addition to chatting up Rollins about the band's recent reunion, Pop and crew deliver a grinding performance, replete with Pop's lizard-like antics, of rapid-fire rocker "ATM" from the band's acclaimed reunion effort, The Weirdness.
Check out a snippet of the band's performance pulled from tonight's episode and don't forget to tune in. With two of punk rock's elder statesmen on hand, viewers could be in for a special treat.
Now Watch This: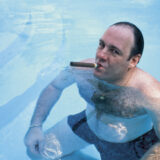 On the Web:
The Henry Rollins Show on IFCTV.com
Talk: Will you tune in for Iggy and the Stooges' Weirdness tonight?