Omar Rodriguez-Lopez, the afroed and skinny-jeaned guitarist behind razor sharp riffage from the Mars Volta, is one busy man. In addition to currently logging studio time for a fresh Mars Volta record alongside vocalist Cedric Bixler-Zavala, Rodriguez-Lopez is gearing up to drop his third solo record, Se Dice Bisonte, No Bufalo. In preparation of the May 29 release, Rodriguez-Lopez talked with SPIN.com about his work ethic (meticulous), social life (non-existent), his other collaborations (numerous), and the forthcoming Mars Volta album (nearly complete).
"I always wanted to move there, ever since our first tour in '98 that we took to Europe," the guitarist said about Amsterdam, the city where the bulk of his forthcoming long-player was recorded. The album, Se Dice Bisonte, No Bufalo, which comprises three vocal tracks and seven instrumentals with titles like "Please Heat This Eventually" and "Rapid Fire Tollbooth," mirrors Rodriguez-Lopez's past efforts with the inclusions of a musical cast of Mars Volta frequenters: Multi-instrumentalists Marcel Rodriguez-Lopez and Adrian Terrazas-Gonzales, bassist Juan Alderete de la Pena, Beastie Boys collaborator Money Mark, Red Hot Chili Pepper John Frusciante, and Bixler-Zavala all appear on Se Dice Bisonte, No Bufalo.
Though Bixler-Zavala adds his spazz-out vocals, a process he describes as silent, in which the two "let the music do the talking," Rodriguez-Lopez, differing from Mars Volta's methods, occasionally directs Bixler-Zavala's contributions: "We just sort of play something and Cedric will know what he needs to do, and if I need to guide him at all, it's just a matter of a few words like 'you need to change this part, this parts not going so well here,' we do something and he usually gets it right."
In addition to constructing his solo album, which, at least for Rodriguez-Lopez, is an amazingly painstaking cut and paste process, the guitarist was undertaking — or at least incubating — numerous others. First, the Mars Volta's Amputechture also came together in 2005, as did the origins of a film score project entitled El Bufalo de la Noche, translated in English as The Night Buffalo. The film, directed by Mexican filmmaker Jorge Hernandez Aldana, was lifted from the book of the same name written by respected author Guillermo Arriaga (Babel, 21 Grams), offered a drastic change of pace for Rodriguez-Lopez.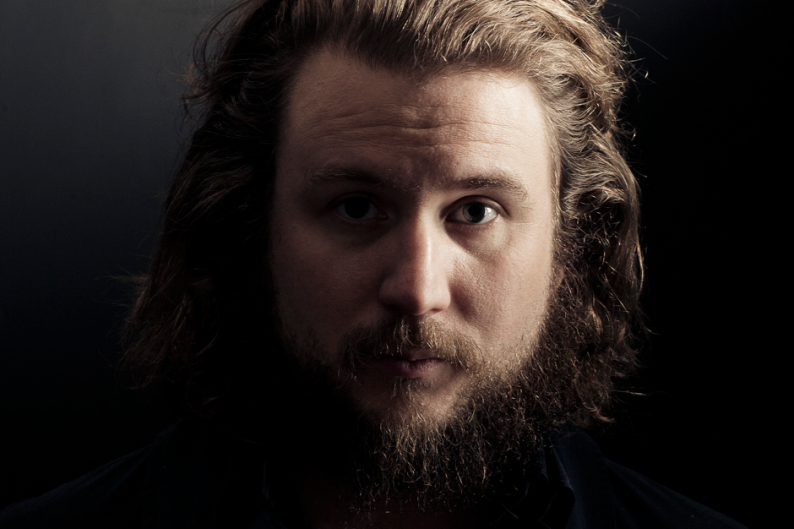 "At some point in 2005 during the Frances the Mute tour, I got a letter from [Arriaga]," said Rodriguez-Lopez. "He realized I was the only person who could make music for Night Buffalo, and I liked all his films, so I jumped on this opportunity and flew down to Mexico and met him." The guitarist joined the project and spent the "better part of the next nine months learning a lesson in humility and being directed," which for him was a whole new method of creation. "I never made music and had to have it okayed by somebody, I've never been directed by someone," he said. "It was a long, agonizing process that I'm glad I went through."
Now, following the completion of his score and numerous solo recordings, Rodriguez-Lopez and Bixler-Zavala are putting final touches on Mars Volta's follow up to 2006's Amputechture in Los Angeles, and Rodriquez-Lopez is slightly mum, offering only a few details. "It should be done in a couple of weeks," he said. "It's supposed to come out in September, but you know that works."
If you're feeling exhausted by Rodriguez-Lopez's output by now, brace yourself — there's more. The guitarist has taken on another project, this one, a yet-to-be titled musical duo, features Hella sticksman Zack Hill. "[Hill] just came to town and I was describing this record I was making at the time that was not in the tradition how I was making records at the time, it was more guitar driven and what people referred to as math rock," Rodriguez-Lopez stated. "I showed him the songs and we recorded them in a couple of days. He's probably the only drummer I've ever been able to beat box a beat to, then take it from there, his approach is completely different, the rhythm structure is there, the way he approaches it, it's really something different."
And Rodriguez-Lopez's approach to music is equally different. "It's just the closest thing for the way I can express myself," he said about his Puerto Rican upbringings and the ever present structural and syncopated music of his youth, which he has now morphed into an uber-sophisticated jazz on jet-fueled sonic. "It's just something that comes natural to me. There is a lot of architecture that goes into it."
Whether it be Rodriguez-Lopez's deranged six-string sounds, demanding work ethic — "I need to have at least that many projects in various stages of production to feel calm and not overwhelmed by one thing." — or his music's shelf life — "I end up disliking whatever I made in the past" — it seems at least one stage of Rodriguez-Lopez's prolific and strenuous methods is effortless.
"All the people who end up on the record are just my friends, my environment," he said. "Because I've limited my life to just being in the studio, and I don't have a social life… this is one of the ways I can socialize with my friends. They know I'm not going out to a bar." The process from there is fairly simple, his friends drop by and there is always a looming cloud of musical production. "Inevitably they're going to be recorded, you can only listen to records or watch a movie for so long, so we just go downstairs, I show them their part and they execute it," he explained. "I'm happy and they're happy." WILLIAM GOODMAN
On the Web:
themarsvolta.com
Talk: At the Drive-In, should they reunite?