There is something fantastically calming about Jimmy Tamborello. Sitting on a squishy black leather couch, contently sipping a beer in a Brooklyn bar, Tamborello, the knob-twisting savant behind James Figurine, Dntel, and most famously, Postal Service, chats with SPIN.com about his new record, Dntel's Dumb Luck — dropping April 24 via Sub Pop — the ins and out of its creation, and the future of the Postal Service — all while exuding the snug fit of his semi-reserved and calculating demeanor to the blustery, incubated, and pedantic sound of his musical product.
"I think people know not to expect it to be another Postal Service album," Tamborello told SPIN.com about Dumb Luck, his Dntel album under construction since 2002. "I did another Figurine solo thing a little while ago and sold a couple thousand records, so the fact that I'm attached to the Postal Service doesn't guarantee anything."
Well, that depends on your definition of "anything." Tamborello's music, no matter which moniker, always seems to present a consumable, dreamy collection of digital landscapes, and with Dumb Luck his first vocals, equipped with wavering nuances. "It's all kind of techno-pop at the core," Tamborello stated, "but with Dntel stuff, I can be more experimental — that's sort of the goal." With the new record, Tamborello offers a digital and oft-conventional (acoustic guitar, live drums) mish-mash of guest sonics ranging from the pensive vocals of Jenny Lewis ("Roll On") — also a Postal Service collaborator — to the trip-out acoustics of Grizzly Bear ("To a Fault") to the pitched whimper of indie 'it' boy Conor Oberst ("Breakfast in Bed"). "It was mostly people that I'd already worked with before, that I kind of knew and was already comfortable with. I'm not great with trying to find new people," a contained Tamborello said. "It's socially weird to meet up with somebody and say 'oh, lets make music.'"
But despite awkwardness, Tamborello managed to join forces with a few fresh artists, many who he's still yet to meet face-to-face. "Fog was one ("Natural Resources") where I'd never met him. I just liked what he did a lot and asked if he wanted to do it," Tamborello said about the pair's collaboration. "The Grizzly Bear one, well, I did a remix for them and then that's how I met Ed [Droste, Grizzly Bear singer/songwriter]… but I am meeting them tonight for the first time, I've only talked to them on the phone."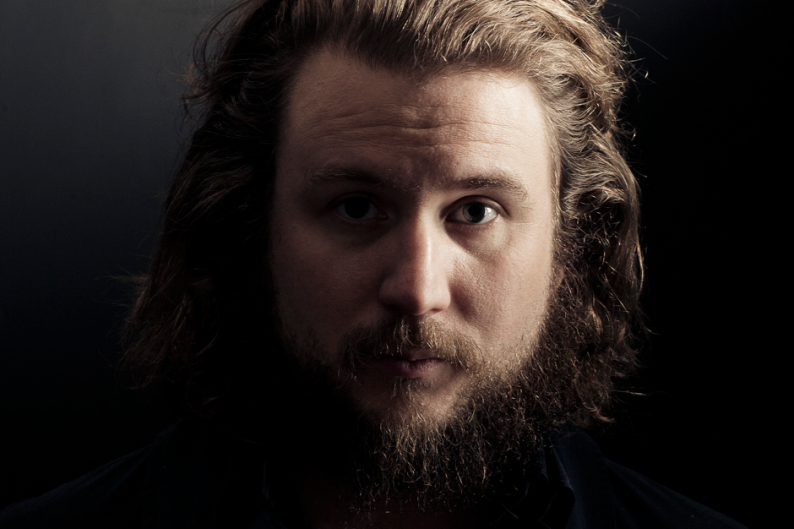 Still, considering the long-distance musical partnerships, an expected move in light of his previous projects of the same kind (i.e.: Postal Service), Tamborello managed to cultivate musical relationships the old fashioned way. "With Conor [Oberst], I met him through Jenny Lewis, who I'd worked with in Postal Service," Tamborello said in reference to the inception of "Breakfast in Bed," Oberst and Tamborello's glimmering slow dive on Dumb Luck.
Over the last few years, whilst Tamborello has been busy with numerous projects, which now includes an online DJ gig via DubLab.com, the heavy bearded motherboard musician affirms that new Postal Service material has been tracked for a forthcoming album. "We're doing this kind of the same way we did the first one [album] where we didn't have a deadline… so I'll send something to Ben [Gibbard, Death Cab for Cutie frontman and Postal Service singer] and then he comes up with something and sends it back," Tamborello stated about the Postal Service's now infamous arrangement. "We have a few songs started with some vocals, but nothing's finished."
But thankfully, Tamborello plans on investing serious time glued in front of his computer — the exact locale his fans want him. "I just made a website, I want to work on songs month to month and put up a new song every month, maybe not even finished songs, but just put up stuff, get it out to the world without thinking so much about it and without having an album planned," Tamborello said, "I've always been in the middle of these big projects and I like the idea of just one song… I need to keep it open."
And Tamborello, continuing to articulate gently, and at times nearly inaudibly, exposes his genuine necessities. "I need to make sure I'm having fun doing exactly what I want… at least for me music is still fun, a hobby, and it's a privilege to be able to make any money off of it, it's hard to complain."
On the Web:
jimmytamborello.com
Talk:James Figurine, Dntel, or Postal Service, which do you prefer?