Legend tells that a cobra snake from the future bit Gabe Saporta, frontman for Cobra Starship, and taught him how to dance. In the video for Send My Love to the Dance Floor, I'll See You In Hell (Hey Mister DJ), off of their 2006 debut While the City Sleeps, We Rule the Streets, we get to see this all unfold. With Fall Out Boy's Patrick Stump in a bunny suit and Kid Millionaire a.k.a. DJ Steve Aoki manning the decks, the clever and rambunctious Saporta aims to teach hipster kids how to dance and emo kids to stop being such whiners — and it's all done from space!
Gabe Saporta tells SPIN.com that the space age dramatization panned out exactly as it should have. "Now, obviously, this video is a bit exaggerated for cinematic purposes. For starters, our space suits were not as chic in real live as the ones the stylist commissioned for the video," Saporta says. "Also, Mr. T was not really on the starship…it was just some other dude with a mohawk and gold chains."
As for Saporta's choice for Stump? Saporta references the "Church of Hot Addiction" video, which witnesses him marrying a bunny. Both he and Fall Out Boy's Pete Wentz planned to reveal that the lucky bunny was indeed Wentz, however Wentz had a better idea. "We realized that the role required a more advanced method of acting then Pete possessed," Saporta explains. "Luckily for us, Patrick had been training in this very method for months, and we all thought he was ready to give it a shot."
Now Watch This
Cobra Starship – "Send My Love to the Dance Floor, I'll See You in Hell (Hey Mister DJ)" https://www.youtube.com/embed/84saYemcJQY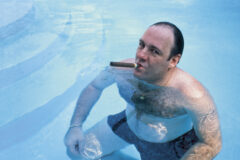 On the Web:
Cobra Starship at MySpace
cobrastarship.com
Talk: Who's the better dancer, hipsters or emo kids?
Get a Free Digital Sampler from SPIN.com and Insound!
When you spend $25 at Insound.com, you can download a free sampler featuring tracks from Bright Eyes, Dungen, Dinosaur Jr., and many more! FIND OUT HOW >>