Tonight (May 25), former Black Flag frontman, electrified punk deity, and burly performing cultural critic Henry Rollins continues the sophomore season of his weekly late night residency on IFC with the sixth episode of The Henry Rollins Show. And a fellow politically-charged musician, one Billy Bragg, decided to cross the pond and drop in for a performance.
Beginning at 11 P.M. EST/8 P.M. PST on IFC, Rollins will serve up diverse and compelling palette of urgent interviews and musical gigs, satisfied by fast-talking landmark actor Steve Buscemi and renowned singer/songwriter Billy Bragg, respectively. Stepping forward with a sincere rendition of his famed blue-collar politico strummer "Waiting for the Great Leap Forward," pulled from his 1988 album Workers Playtime, Bragg entices, waltzing the carpeted performance space, belching his classic working-class folk hollers.
Check out a snippet of the Billy Bragg's performance pulled from tonight's episode and don't forget to tune in. With a thorough cast of politically minded, tuned-in, and eloquent speakers, collectively representing nearly every fathomable medium of art, viewers could be in for a ground breaking and engaging episode.
Now Watch This: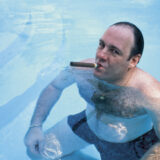 On the Web:
The Henry Rollins Show on IFCTV.com
Talk: Are you "Waiting for the Great Leap Forward" to tonight's episode?