Tonight (April 27), punk rock icon and performing cultural critic Henry Rollins resumes the second season of his weekly late night residency on IFC with the third episode of The Henry Rollins Show. And spazz-out El Paso alt-prog rockers the Mars Volta are tonight's musical guest: expect unwavering intensity!
Beginning at 11 P.M. EST/8 P.M. PST on IFC, Rollins will serve up a diverse and compelling blend of insightful interviews and musical performances, the latter satisfied by the Mars Volta, who cut through an electrified rendition of "Day of the Baphomets." The tune, an eclectic and piercing saga from the band's widely acclaimed 2006 record Amputechture, features clarinet work, searing loop de loop riffs, and high registered vocals, all which coalesce into a jaw-dropping live musical fury.
Check out a quick blip of the band's performance pulled from tonight's episode and don't forget to tune in. The Mars Volta seldom appear live on TV, but when they do, it's unquestionably a memorable rock'n'roll event.
Now Watch This: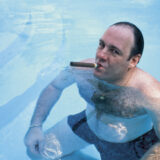 On the Web:
The Henry Rollins Show on IFCTV.com
Talk:Are the Mars Volta the most powerful live act in contemporary rock?