If you've been disappointed by the state of comedy on MTV since The State left the building, it seems the execs have taken your total request. Upright Citizens Brigade regulars Aziz Ansari, Rob Heubel (best known to movie-goers as the "Inconsiderate Cell Phone Man"), and Paul Scheer (Best Week Ever) are bringing their brash brand of humor to the network with Human Giant.
"We're going for something different, not a traditional sketch comedy show — more like short films," Huebel told SPIN.com. The trio has already amassed a cult following on the web with the aforementioned absurdly funny short films. "MTV saw that stuff online, and they wanted to capitalize on the viral stuff that's going on."
No doubt web fans may worry that the network will water down the wackiness, but Scheer allays any fears: "It's been really great because MTV has really allowed us to do what we think is funny, and they're giving us free reign to do what we want to do," he revealed. "We're the exec producers and writers and talent on the show."
If the rest of the show is anything like the segment "Camping Weekend," which mines the plots of moral cautionary movies like A Simple Plan and Shallow Grave for some unlikely laughs, Jackass might need to turn it up a notch. And if you just can't wait for more, there's always the MySpace page for the three amigos (Aziz on the user pic: "We're in these three American Apparel tracksuits walking around, and someone thought we were the Wiggles."). Human Giant sets up camp at MTV on April 5, 10:30 P.M.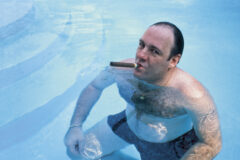 Now Watch This: Human Giant- "Camping Weekend"


On the Web:
Human Giant at MySpace
Talk: Did Human Giant deliver super-sized laughs?