French film star and ethereal songstress Charlotte Gainsbourg was the product of an all-star collaboration. Father Serge was a well-known French poet, singer/songwriter, actor, and director, while mother Jane Birkin was known in England as both a singer and actress. Perhaps taking a cue from her famous parents (minus the procreation part), Charlotte enlisted her own cast of major leaguers for her first full-length, 5:55. French duo Air composed the music, Jarvis Cocker, Neil Hannon (The Divine Comedy), and Charlotte penned the lyrics, while producer Nigel Godrich helmed the project from his director's chair. Canadian composer and Beck's father David Campbell wrote the string arrangements and acclaimed Nigerian percussionist Tony Allen sat in, as well.
The video for the album's "Songs That We Sing" was shot in the studio with Air and attempts to hide the heavyweights behind the curtain with its deceivingly simple design, but don't be fooled, this is no minor production. 5:55 clocks in April 24 via Because Music/Vice Records.
Now Watch This: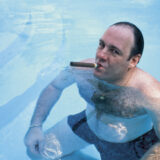 On the web: charlottegainsbourg.fr
Talk: Does the song Charlotte sings mean anything to you?