DANIELSON: A Family Movie follows the experimental music of Daniel Smith, his four siblings, his best friend Chris, and understudy Sufjan Stevens, tracing their path along the fickle road to fame. A visual collage of performances, interviews, and animation, the documentary explores themes of family, individuality, and Christianity while delving into the battle between artistic expression and mainstream success. In one clip, filmed at a 2002 show in Berlin, the Danielson Famile don white nurse uniforms and deliver high-pitched vocals ringing over synth-heavy riffs and maraca shakes. Filmmaker JL Aronson interviews concertgoers about their reaction to the performance, and the German fans offer words of healing, passion, synchronicity, ex-lovers, and their distaste for Jewel. Being screened at select theaters and festivals across the country this winter, the DVD will be released through IMAGE Entertainment April 10.
Now Watch This:
QUICKTIME
Talk: What would your family movie look like? COMMENT
On the Web:
danielsonmovie.com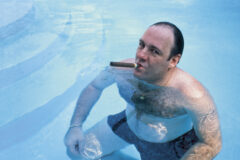 Subscribe to Spin
YES! I want to try 2 issues of SPIN RISK-FREE!