In the video for "The Patty Hearst Syndrome" from their second album, This Sinking Ship (out Feb. 20 on Fat Wreck), Boston punk quartet Smoke or Fire watch as Patty, a rich girl from the suburbs, self-destructs. During a mock Sears photo shoot with her two plastic-faced parents, Hearst puts down her silver spoon and picks up some hair dye and a Black Flag t-shirt. Frontman Joe McMahon asks, "Why did you let them take you from your good life? / Is it better to change all the clothes that you wear to pick up a gun and put your fist in the air?" After another photo shoot, this one courtesy of the police, Patty realizes maybe Sears wasn't so bad after all.
Now Watch This: Smoke or Fire – "The Patty Hearst Syndrome"
Talk: Is This Sinking Ship going down? COMMENT
On the Web:
smokeorfire.com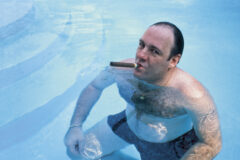 >> Listen to Smoke or Fire on Napster
Subscribe to Spin
YES! I want to try 2 issues of SPIN RISK-FREE!