Innovative duo Gnarls Barkley have been dropping clever video after video for the tunes off goldmine debut St. Elsewhere, and the clip for " Smiley Faces" finds them traversing musical eras since the turn of last century. The doc-style footage opening the clip features Dennis Hopper as a music historian and Quantum Leap's Dean Stockwell as a presumably legendary A&R rep, both of whom posit the pair as immortal time travelers who were present at "the beginning of hip-hop…involved in Motown [and], in the Twenties, there was even a dance named after them." Follow Gnarls Barkley as they rush chronologically through the Prohibition years to the break-dancing era, with jaunts through the Big Band period, psychadelic Sixties, and flower-power decades sandwiched in between.
Now Watch This:

Talk: Does this video make you smiley? COMMENT
On SPIN.com:
Gnarls Barkley, RHCP Set to Rock Grammys
Everybody's Talking About: New Video from Gnarls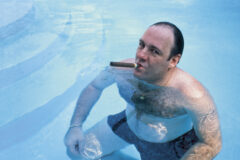 On the Web:
gnarlsbarkley.com
>> Listen to Gnarls Barkley on Napster
Subscribe to Spin
YES! I want to try 2 issues of SPIN RISK-FREE!