Bang Gang's lazy, hazy video for "Stop in the Name of Love" from forthcoming album Something Wrong may be missing the dramatic choreography and coordinated gowns of the original version by the Supremes, but there is at least one Dreamgirl present. Icelandic imp and bespectacled Bang Gang mastermind Bardi Johannsson frolics in flowery fields, and soft focuses a video lens on the lovely lady of his affections. The innocent images of retro-style romance meld seamlessly with Johannsson's lilting vocals, and the gentle electro-pop underpinnings are enough to stop any fleeing lover in her tracks. Something Wrong will make a bang April 3 on Nowhere Records.
Now Watch This:
>> Listen to Bang Gang on Napster
On the Web:
banggang.net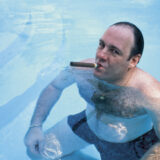 Talk: Did you stop in the name of love to watch Bang Gang?