In the latest episode of her online music chat program, In the Attic, host Rachel Fuller and her legendary rocker-partner Pete Townshend welcome Glaswegian chart-toppers the Fratellis into their studio. The scruffy trio entered Fuller's Attic to perform an unplugged version of their "Got Ma Nuts from a Hippy" (off smash debut Costello Music), on which Townshend accompanies the indie upstarts on guitar. Watch as these buzz-amassing newcomers share a session with the seminal guitarist, which takes place right after an enthusiastic shout out tailored just for SPIN.com.
Now Watch This:
In the Attic session with the Fratellis
>> Click here to get code to embed this video on your website.
Here is the tracklisting for Attic Jam, available on iTunes Feb. 14: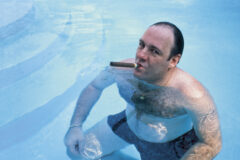 1. The Kooks – "Ooh La"
2. Ed Harcourt – "Last Cigarette"
3. Martha Wainwright – "These Flowers"
4. Editors – "All Sparks"
5. Rachel Fuller – "Blue"
6. The Raconteurs (feat. Pete Townshend) – "The Seeker"
7. Death Cab For Cutie (feat. Pete Townshend) – "Photobooth"
8. Pete Townshend – "Acid Queen"
9. The Fratellis (feat. Pete Townshend) – "Got Ma Nuts from a Hippy" DOWNLOAD MP3
10. The Magic Numbers – "Long Legs"
11. Regina Spektor – "Musicbox"
12. The Zutons (feat. Pete Townshend) – "Mary Anne with the Shaky Hands"
13. Simon Townshend – "Soul Searching"
14. The Flaming Lips (feat. Pete Townshend) – "Baba O'Reilly"
15. Rose Hill Drive – "Brain Novocaine"
16. Razorlight – "What's it All About"
17. Mikey Cuthbert – "Misery"
18. Foy Vance – "Homebird" Bonus Track:
19. Pete Townshend – "A Quick One While He's Away"
Talk: Do you want to be trapped in the Attic with the Fratellis? COMMENT
On SPIN.com:
The Fratellis' Smashing Debut
On the Web:
intheattic.tv
Subscribe to Spin
YES! I want to try 2 issues of SPIN RISK-FREE!