Having impaled Christmas, John Waters is skewering the next big holiday, Valentine's Day. Though his upcoming album celebrating the love fest, A Date with John Waters (out Feb. 6), compiles sweet ditties from the likes of Josie Cotton, Ray Charles, Dean Martin, and other amorous old schoolers, "All I Can Do is Cry" by the less-than-happy couple Ike and Tina Turner is reason for pause. Now, the campy comedian has released a video wherein he reads his album's liner notes. With deadpan delivery, Waters discusses the first trisexual song, smoking a joint, sexuality confusion, and JuJu Fruits. And if nothing says "I Love You" like bro jobs, when Waters wonders aloud if you'll still love him tomorrow, you'll be hard pressed to say no.
Now Watch This: A Video Message from John Waters
https://www.youtube.com/embed/vbSRQUuLE2c
Talk: Would you date John Waters? COMMENT
On SPIN.com:
It Happened Last Night: A John Waters Christmas
John Waters Skewers Christmas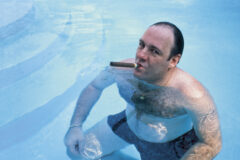 >> Listen to A John Waters Christmas on Napster
Subscribe to Spin
YES! I want to try 2 issues of SPIN RISK-FREE!