"Hey, Ball-i-more!" shouts Club Queen K-Swift, a mane of shiny black ringlets cascading over her face. Chants of "Hey, hey, hey," from Blaq Starr's "Hey, Motherfucker (Clean Version)," punctuate a wall of kick drums and bass as the tension rises. In a voice like a drill instructor, K-Swift commands, "We bangin' the club music real sir-ious." Her French-manicured fingers flip the fader as she delivers the payoff — handclaps crashing over shuffling percussion — and the studio monitors rattle and bounce. It's 9:34 p.m. on a Monday, and K-Swift (real name: Khia Edgerton), 27, is making her job of the last four years — hosting the Off the Hook mix show on 92Q Jams, Baltimore's 92.3 FM (WERQ) — look easy. From 6 to 9:30, Monday to Friday night, the show is standard hip-hop and R&B. But the last half hour (more on Fridays) is dedicated to the raucous sound called Baltimore club.
For the 650,000 or so residents of the predominantly black, working-class town known variably as "Bodymore, Murderland," or just plain "B-more," this is their homegrown soundtrack. K-Swift quickly segues to another record, on which her friend and scene godfather Rod Lee sings with a surprising earnestness, given the music's often lewd subject matter.
"Now listen to my story
Bill collectors on me
Have to file bankruptcy
Need some help from somebody
Doctor bills are stacking up
I'm desperate to make a buck
I played the lottery today
Won't you please wish me luck
I'm going to dance my pain away."
When the steady boom kicks back in, one of the speakers is left shredded. K-Swift calmly changes the blown fuse. Evidently, she's had to do this before.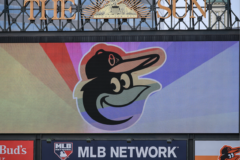 Ever since 50 Cent's The Massacre blew up the spot, millions know about the city's brutal romance with heroin (see Fiddy's "A Baltimore Love Thing"). But that's not the only problem. Baltimore is second in the country in murders per capita (tied with Detroit), trailing only New Orleans. They don't film the gritty HBO series The Wire here for nothing. But when B-more residents want to escape the grind, they know how to get down and dirty. Baltimore club is raw party music that crosses the incessant thud of house with hyperspeed hip-hop breaks and sampled sound bites (often X-rated and repeated ad infinitum). Its aggression reflects the city's harsh urban landscape, but there's also a reckless, playful quality that mirrors a drive to transcend the blight. Similar to other regional mutations of rhythm — crunk from the Dirty South, grime from East London, or baile funk of Brazil — B-more club is staunchly local and has developed out of the spotlight for years. These days, though, it's bubbling across the city's beltway and beyond. Rod Lee recently released the first widely available B-more club music album, his Vol. 5: The Official, on local label Morphius, tapping into its global distribution network. Meanwhile, DJs like K-Swift, Technics, and Scottie B spin to packed rooms in Philadelphia and New York. Blogs have been buzzing about the sound being the next big thing, but its roots run deep.
Rewind to the mid-'80s, when Chicago house music was transforming the world of beats. Atlanta radio personality Frank Ski, who was then DJ'ing at Baltimore's urban powerhouse V-103, started playing just the break, or the most climactic part of house records, in much the same way that Kool DJ Herc and Afrika Bambaataa created hip-hop out of snippets of old funk, soul, rock, and jazz. Until then, house had been a mostly gay scene that was shunned by the macho rap crowd. "[Frank] made it cool to be into house," says Scottie B, a.k.a. Scott Rice, 37, a Baltimore DJ who also worked in a local record store. Inspired by artists like the U.K.'s Blapps Posse and Dynamic Guvnors, as well as the Chicago sound of DJ Fast Eddie, Tyree, and Farley Jackmaster Funk, Scottie B and his friend DJ Shawn "Ceez" Caesar, 34, began to dabble with their own tracks. They spun the results — Caesar's "Yo Yo Where Tha Hoes At" (1991) and Scottie B's "I Got the Rhythm" (1991), in particular — at clubs like Paradox and Godfreys.
Then, in the summer of '92, Frank Ski, using the alias 2 Hyped Brothers and a Dog, unleashed the breakout hit "Doo Doo Brown," which was simply a two-bar loop from "C'mon Babe" by Miami rappers 2 Live Crew with the repetitively chanted title as the hook. "When Frank dropped that, it pretty much set the tone for what was gonna be goin' on as far as club music," says Grant Burley III, 33, better known in the B-more scene as producer Booman. Even today, many B-more club tracks use the break on Lyn Collins' "Think (About It)" featured in "Doo Doo Brown."
Around the same time, Scottie B and Caesar were recruited by independent entrepreneur Ronald Mills, then a manager at Paradox, to make a track with Miss Tony, whom he describes as a "six-foot, 300-pound Biggie Smalls look-alike drag queen." (Tony passed away in 2003.) This became the local hit "Whatz Up? Whatz Up?/How You Wanna Carry It," which Mills released as a 12-inch single on his Sinical imprint in 1993. At the song's conclusion, Miss Tony chants, "Unruly, unruly, unruly," a rallying cry that became so closely associated with the producers of the record that it helped popularize their soon-to-be influential label Unruly Records.
Between 1993 and '97, Unruly released more than 40 12-inch singles by artists such as KW Griff, Jimmy Jones, Karizma, Big Red, DJ Technics, and DJ Class. "We spit 'em out like we had problems, because we wanted to brand ourselves with the music," says Caesar, who is now a music buyer for the Downtown Locker Room sporting goods chain but still runs the label with Scottie B. And it worked — Unruly cornered the Baltimore club market. Because its stable of producers moonlighted as club and radio DJs, it could promote the music directly to the people, nurturing a strong demand.
When Unruly's output quieted in the late '90s, Rod Lee began to dominate the scene with his Club Kingz label. Lee's product was so hot that DJs were willing to pay up to $19.99 for his latest 12-inch, sold exclusively at the now-defunct store Music Liberated, before Lee opened his own Club Kingz outlet in 2003. Though he claims to have been contacted by various major labels over the years (he won't name names), Lee, in true Baltimore character, seems comfortable to reign as the biggest artist on the local scene.
It's "Super Sunday" night at Hammerjacks, a converted warehouse near Interstate 83 (the highway that runs through downtown Baltimore), and the queue winds around the building. The 17-and-over crowd is dressed in typical hip-hop attire — long white T-shirts and baseball caps for the guys, skin-tight jeans and stiletto heels for the girls. After plunking down $10 and getting frisked, you're met by a deafening barrage of thumping bass and ferocious polyrhythms as a crowd of about 1,800 kids, 99 percent black, gets busy. Not a soul is holding up the walls, and it feels like the joint is about to come tumbling down. Jenny Craig junkies would be envious of the workout these kids are getting. Some execute fluid break-dance moves to the sped-up tempos, others give a veritable Kama Sutra demonstration. A chant of "Watch my ass while I'm grinding on your dick" reverberates through the speakers like a porn version of Simon says. The music is all about the buildup and the release, and K-Swift is one of the finest at controlling the flow. But as the only female DJ in a largely male scene, she's encountered some jealousy from peers who wonder why producers are giving "this girl" exclusive CD-Rs of the hottest new songs. Regardless, her following continues to grow.
K-Swift recently discovered a fan base she never knew she had, when she was invited to play a private gig thrown by promoter and record-store owner Jason Urick. "I got a phone call about a party in a loft, right here on Mulberry and Franklin Street," she relates from the lounge at 92Q Jams following her radio shift. "My manager booked it and we go there. I walk in and the building looks like the scariest thing I've ever seen in my life, graffiti everywhere, punk-rock kids, all this crazy weird stuff. Like, what kind of a party is this? I had no idea."
Wide-eyed, she continues: "I thought it was a rock'n'roll party, but I get in there and everyone is dancing to Baltimore club. And when I walked in, they treated me like I was a queen, for real. 'Oh my gosh, she's here!' 'Can you sign an autograph?' Everyone was coming up to me to take pictures. I had some of my friends with me, and they started taking pictures with their camera phones because they couldn't believe these people were dancing to Baltimore club music. The best crowd I've ever DJ'd for in my life!"
According to Urick, about 350 people, mostly white, attended the party last summer, including fans who came all the way from Connecticut and Philadelphia just to see K-Swift. Explaining Baltimore club's attraction and sudden appeal outside its core urban audience, Urick says, "It's just raw and heavy, and I wouldn't say primitive, but it kinda is. When you hear that beat, it's hard to not dance to it."
The sound has already infiltrated the mix shows on Philly's Power 99, as well as the clubs of New Jersey, and is finding a welcoming audience among Manhattan's primarily white downtown scene. Gary Hunt, 26, who promotes nights called Keep It on Safety and Fight Club, recently brought Scottie B up to spin at Happy Ending in Chinatown and K-Swift to play at Crime Scene Bar & Lounge, across the street from CBGB on the Bowery. "When these DJs come up, they kill it every time, and mad people come out for it," says Hunt, who plans to have B-more DJs back on a regular basis. "[The music] makes anyone want to party."
"We have seen a lot of distributors and stores that just sell punk or indie rock come in and buy it," says Stephen Janis, chief operations officer at Morphius. "And they've sold it, not in great quantities, but enough to say that this is some sort of phenomenon.
"What makes [B-more club] resonate is its component of reality; people are looking for something real," he elaborates. "The white DJs pick up on it because they've never conceived of anything like this. They wouldn't put music together like that. It's a world they don't even know." In fact, Hollertronix DJ Diplo, who discoveredBaltimore club through the Internet when he was teaching inner-city youth in Philadelphia, admits to feeling like "a fed" when he first went to Baltimore in search of the hard-to-find music. "Why don't these people just be a little more out there, wanting to promote the music?" he asks. "It's almost like they want to stay in Baltimore and keep it Baltimore."
To a certain extent, he's not wrong. Glenn Brand, 34, who produces club tracks as DJ Technics, explains: "What we're doin', other people are interested in, but we're not interested in what they have to offer for it, because once again it will become their product and not ours. Major labels are only interested in making quick cash. They want you to modify, make changes, water it down, so the general public can understand it. But that's not what this is. It's rude, obnoxious, X-rated, and it's street, and just because it can be presented on a more commercial basis doesn't necessarily mean it should be." Still, Diplo has done a Baltimore club remix of Gwen Stefani's "Hollaback Girl" and has incorporated a Baltimore club track (KW Griff's "You Big Dummy") into the song "U.R.A.Q.T." by British rapper M.I.A.
But it's all good to Unruly's Caesar, who is in the midst of relaunching his label's back catalog and now manages most of the DJs and producers in the scene, including K-Swift. "The big thing we're gearing up for now is Club Classics Vol. 3," says Caesar about the double-disc package, which will be released by year's end. "That's gonna tell our story. That's going to have a ton of information with respect to where club music came from." Caesar plays me a new cut by Blaq Starr, which sounds like a hybrid of B-more club and its Dirty South cousin, bounce. "We're pushing the envelope with the sound," he says. "We want it to have a national appeal without compromising the integrity of the music."
K-Swift, who recently released the sixth volume of her Club Queen mix-CD series, is awaiting her next release on Unruly. She says, "Now I'm starting to get calls from Miami and California. I'm starting to get calls from people who do these parties and want to expand this music. Whatever I can do to help it get to another level, I'm with it."
And of course there's Rod Lee, who, despite some personal setbacks (he was convicted in August for second-degree assault), is already preparing for the year ahead. "The Club Kingz back catalog is about to be reissued, and can't nobody get it until then," he says via phone from the Baltimore County Detention Center. "I got so much shit coming it's crazy — 2006 is gonna be like a monster."