Kemado's showcase at the Bowery Ballroom last night was a great one, in that it included an incredibly diverse range of performers. Tarantula A.D. were a veritable powerhouse. The combined efforts of three multi-instrumentalists who employed cello, lead guitar, bass, clavichord, drums, and even xylophone in a symphonic/metal hybrid are, to put it mildly, intimidating. A guest appearance on Devandra Banhart's new record, however, is vindication that these guys have earnest musical sensibilities under all that blistering muscle. "Love Cherries" and "Lacasa Blanca" were responsible for converting a few people, for sure.
Diamond Nights raised a few eyebrows and quite possibly a few skirts since the cat first dragged them in back in 2002. Tonight they were on top form, having perfected the rock-god swagger they may or may not have uncovered via Google search. Morgan Phalen sure looks sexy in his bullet belt, skinny jeans, and velveteen-jacket-over-bare-chest, but you can't help but wonder if anyone's ever told him he's the spitting image of Monty Python's Eric Idle. The 16th century wandering minstrel's haircut only fed the illusion that at any minute the lads might switch from retro '80s rock and roll to a madrigal arrangement that attempted to summarize the works of Proust. Scrappy anthems "The Girl's Attractive" and "Destination Diamonds" were well received but the highlight of their set was the grande finale: a teeth-shattering, six-guitar jam featuring two members from Dirty Rainbow and two from Stylophone that hammered the cochlea of the assembled throng into submission.
Outside the venue, three kids from WRUV radio were gathering vox pops from the queuing punters. Their main question was the kind of enquiry that puts a coup on the cool: "How do you pronounce the name of the band you've come to see tonight?" Of course, most who were asked don't know. It was therefore prescient and benevolent to evade anyone else's embarrassment by clarifying that the night's headliner is pronounced "doon-yen."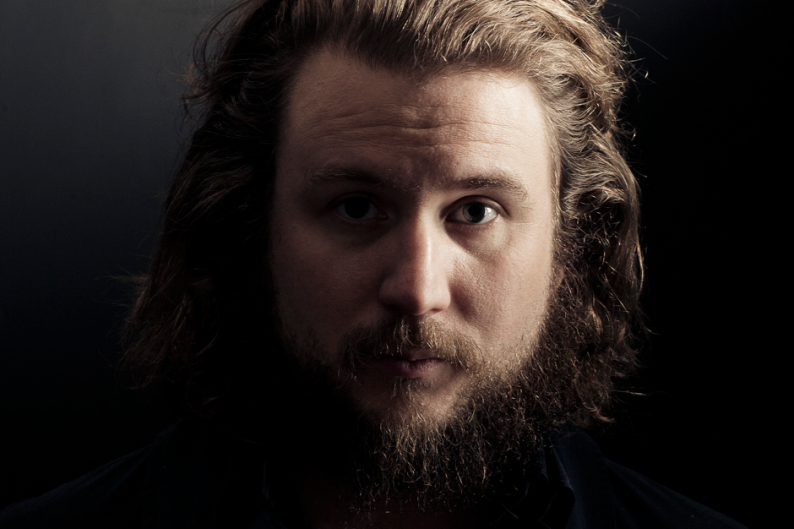 Having experienced critical acclaim in their native Sweden, it was via 2004's Ta Det Lugnt that Dungen managed to locate and seduce the New York hipster audience. The hardcore contingent who have been following the band since the inauspicious release of their first recordings in 2001 best get used to sharing — the secret is officially out.
It was 1:15 A.M. when Dungen took to the stage. The unassuming four-piece led by the prodigiously talented Gustav Ejstes don't mean to perpetuate the mythological status that is growing around them — Ejstes is a romantic figure who developed his interest in hip hop and Swedish folk by living in 17th century mansions and working on farms in deepest Smaland — but in the urban setting of New York they were alluringly exotic and refreshingly unaffected. After short tension builder, "Gjort Bort Sig," they launched into the inspirational "Panda," probably the most accurate testament to their Parson Sound/Stone Roses/psych-prog-folk style. They glided through "Damer & Fasaner" and "Festival," Ejstes on flute lit dramatically under a single spot, illuminating the outline of his curly golden hair — camera phones abound.
During "Lipsill" and "Ta Det Lugnt," lengthy instrumental interludes exposed the talent of all band members, the exchanges between them, the improvisations and dynamic punctuations displaying the sheer symbiotic joy these guys get from playing with each other. An energetic performer who puts his whole being into a song whether he's playing guitar, keyboards, flute or (especially) tambourine, Ejstes displayed enough vigour during these extended sessions to ensure the audience came with the band as they meandered through their musical landscapes.
Perhaps it's a little gauche to note, but the other outstanding feature of the band's live performance is that they are utterly charming. They graciously bowed and thanked the audience after each track, they drank only water between songs, they spouted unfunny one-liners in curlicue-filled Swedish/English accents: "This song's called 'Take It Easy' in English, but you can't take it easy when you're playing a gee-tar so-lo — ha ha!" They paid the kids at the front a lovely compliment by taking their picture at the end of the show. One hundred smiling, screaming, sweaty faces that love you back.
The set ends with "Sluta Folja Efter," capitulating in a blazing spasmodic coda that left the crowd wanting more. Dungen certainly are Kemado's biggest asset. Despite many pretenders, they were the only band to truly instill a Dionysian spirit in the room, and their now-inevitable ascent to stardom is deserved.