By: Jessica Grose
Ris Paul Ric is a kinder, gentler version of Chris Paul Richards, the multi-talented guitar/bass/synth aficionado for the D.C. punk act Q and Not U. Now that Q and Not U is about to disappear fondly and noisily into the Dischord Records sunset, Richards is touring with his own compositions, works that he describes as sounding like "the quieter songs off the last two [Q and Not U] records." Richards worked on the Ris Paul Ric material with Canadian electronic musician Tim Hecker, and he is touring with former Dischord Records labelmate Dan Caldas of Black Eyes on drums. "Ris" clearly likes to keep it in the Dischord family: He's touring with improvisational solo acts Earthen Sea (a.k.a. Jacob Long) and Daniel Martin McCormick, both former members of Black Eyes. SPIN.com caught up with (Ch)Ris to discuss the end of Q and Not U and the beginning of a new era.
SPIN.com: So what does your new work sound like? Is it similar to Q and Not U?
Chris Richards, a.k.a. Ris Paul Ric: No, it's a lot quieter. It's stuff I had written in my bedroom over the course of last winter when the band was taking some time off. It was all written and recorded before I knew the band was coming to an end. So, some people might think, "Oh, this is what he's up to now," but it was really just some quieter music that wouldn't really work for our full blown rock band at the time.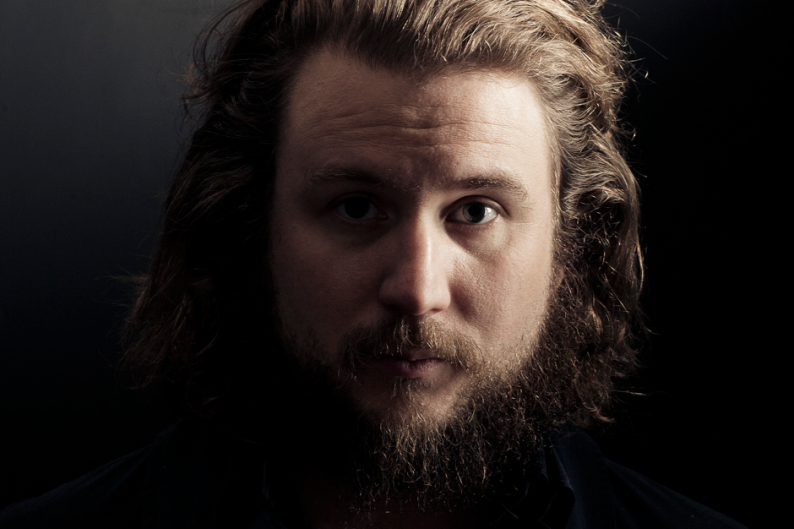 I recorded it — it's about eleven songs — with my friend Tim Hecker, who does a lot of really great electronic music up in Canada, in the Montreal/Ottawa area, and he records for this label Alien 8. We've played shows with him before. Basically I brought these songs up, really bare bones songs. I was really into groups like Suicide at the time, and I was really into Tim's work too, so we kind of put it through the sonic wringer. I try to replicate that as much as I can with the live show, but it comes out however it comes out. There is a pretty improvisational element to it. A lot of people who have heard it think its sounds like the quieter songs off the last two [Q and Not U] records.
What contributed to the demise of Q and Not U?
We just got to the end of our collective ambition. We just reached a point where we had achieved everything we wanted to together and we didn't want to pull people along further than they wanted to go, or slow people down, so we thought it would be best to just get off the train while we still felt good about it. We did what we set out to do. More than we set out to do, really. We were just a basement, fun-time, weekend thing, and it just kind of took us on a crazy seven-year trip.
We hear you're also working with a former member of fellow D.C. band Black Eyes on the new tour.
Yeah, Dan Caldas, who used to be in Black Eyes, is playing percussion on this trip. He wasn't involved with it until I wanted to play it live, because I think I wanted to do it all myself, but I realized I couldn't do it all myself.
Do you feel like being in the D.C. scene with bands like Black Eyes influenced your new work?
I think the music is coming from where I'm at, but D.C. is always more of a creative energy thing than style. There's so much good stuff coming out of Washington that's stylistically different. A lot of the DJ nights this summer have just been killer; a lot of political hip-hop has been coming out now. I think D.C. has just a great creative energy, and that's more what I try to tap into than stylistic stuff. That's the reason I like sticking around D.C.
Are you excited to leave for your upcoming tour?
Definitely. It should be an interesting trip. It's going to be very weird, because my only context for performing live before has been with Q and Not U where it's been really loud and a kind of brash communal event, and these songs are a lot quieter and more meditational. So it will be interesting to have to go on stage and not be trying to do a back flip every five seconds.
Ris Paul Ric tour dates:
8/6, Pittsburgh, PA (Modern Formations Gallery)
8/8, Chicago, IL (Spare Room Gallery)
8/9, Cleveland, OH (Pat's in the Flats)
8/11, Richmond, VA (Children's Museum of Richmond)
8/12, Baltimore, MD (Current Gallery)
8/13, Philadelphia, PA (Space 1026)
8/14, New York, NY (Knitting Factory)
8/15, New York, NY (169 Bar)