By: Erica Futterman
With a Scottish accent and wry sense of humor, singer-songwriter Johnathan Rice describes his debut album, Trouble is Real, as "a little bastard gremlin that won't stay in his jar." Rice, 21, chose a Gram Parsons lyric for the title to symbolize the time he spent writing the album and trying to figure out his life. On the record, Rice uses his quiet intensity to make even the darkest lyrics enjoyable, singing with careful pronunciations that reflect a childhood spent splitting time between Glasgow and Virginia. He speaks in a similar manner, often running his words together in an excited, out-of-breath string. In fact, Rice seems excited about everything, and rightfully so. We talked to him on the phone about breaking away from the singer-songwriter stereotype, his acting debut, and dealing with the more superficial side of things. Rice is touring the U.K. through mid-July.
SPIN.com: Even though your album was released on Reprise, you worked with famed Saddle Creek producer Mike Mogis when recording Trouble is Real. How did that work out?
I traveled all over trying to get the record right before I got to Nebraska. Mogis is a fucking force of nature. He's able to match everything in my head. I had an inherent distrust with everyone else [I'd tried working with] because they were older than me or had made a hit record. But I was able to relax with him because I knew he'd appeal to all of his instincts. I like to work fast — do three takes with the band and then get out of there — and I was able to indulge in that part of myself and then he'd stay in there until all hours tweaking it.
Is there a standout track on the album for you?
My favorite song is "Behind the Frontlines." It's me on acoustic guitar and singing and some of my friends singing with me. I wrote it with a friend, and she said, "The vineyard, the graveyard," and I said, "The graves and the bones," and for some reason I like it best on the album. It's nice to think about.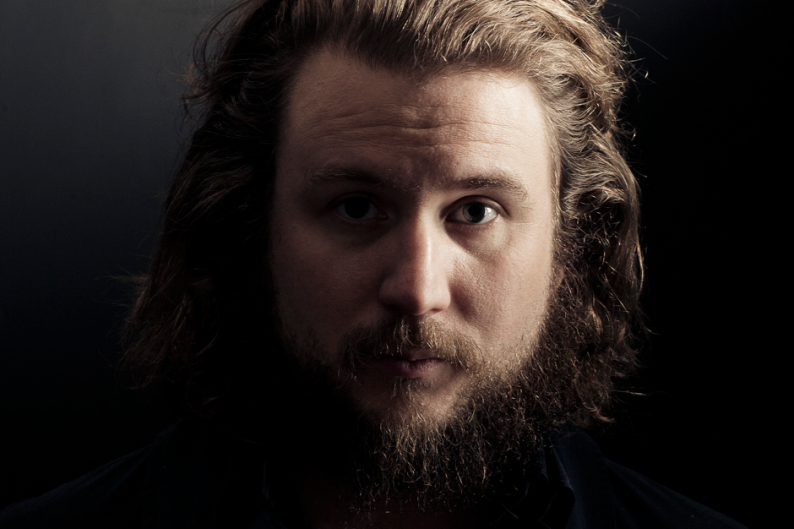 But that's so dismal!
For me it's not. I understood what she meant. That's the problem I'm running into with everyone. They're thinking I'm such a — as they say in Glasgow — sad sack. It gives me real pleasure to hear sad songs and to play happy ones; it's all reversed.
Well it obviously hasn't caused too much of a problem. Even before its release, there was a lot of favorable buzz surrounding Trouble Is Real, including teen magazines like Elle Girl…
Are you talking about being named the second hottest guy in rock? I know [Maroon 5 lead singer] Adam Levine [who topped the list]. He's a friend of mine, but I feel I've got better hair than he does. Second place is no place — I feel like there's a gulf between one and two. Nah, you have to have a sense of humor about this stuff. It's very flattering of course if someone thinks you're cute. But I still want to be making records when I'm 37 and overweight, so I'll lap it up until it dries up.
And you're playing Roy Orbison in a Johnny Cash biopic.
Yeah, the people involved with the movie's production saw some of my shows last year and asked me to come in and read for the part, and I got it. I never would have done it if it wasn't a film about music I love; Cash is a kind of gold standard and Roy Orbison is probably the most gravity-defining singer in rock'n'roll history. He has his own genre. And that's the one thing I was kind of depressed about. I thought, "This film may turn out alright, but there's no way I could sound like Roy." Luckily, I played him before he discovered his falsetto. Everyone maintained I should be like myself, only from Texas and not Glasgow, so I tried to talk like George Bush during the debates: really slow and unsure.
Speaking of the U.K., how does it compare to the U.S. for you?
Well, I'm getting a lot more attention in the U.K. because it's such a small little island. You can tour [there] and come back at the end of your tour and know who you are. I toured with Ray Lamontagne, and it was the first U.S. tour I did where there were people there for me in every city. Somehow I'm a target for bad poetry, which is sometimes kind of a vague sexual invitation. But in the U.K., people throw cigarettes and joints and drinks at me. Well, they don't throw the drinks. But once I asked the bartender for a drink while I was on stage and some people bought drinks for me and put them on the stage.
And now you're doing the U.K. gigs with a full band backing you.
I've been doing the fucking lonely troubadour thing and it's been starting to wear thin, even on me. I'm eager to get out with my friends and see what they can do every night. I look forward to everything. There's nothing to complain about — I got all of the complaints out on the album [laughs]. I sound so fucking dismal.
Are you going to be doing any promo for the movie?
I hope I'm on the lunchbox. What I'm trying to say is, any excuse to promote myself, I'll take it [laughs].
Any last words you're dying to get out?
Yeah. Not a day goes by that I don't weep about being the second hottest guy in rock'n'roll. I'll do anything to get to number one — lose a few pounds, anything they want me to do.