U2 at Continental Airlines Arena, East Rutherford, NJ
5/18/05

About the Advanced Theory: The theory states that there are certain musicians who were so good when they started that it is impossible that they could ever be bad. Advanced musicians contradict themselves, confuse their core audience by radically changing their sound, rework songs that are sacred to fans, appear in commercials, and generally make everyone upset. But the Advanced always explain that their latest work is their best, infuriating anyone who is still paying attention to their careers. The official Advanced look is a black leather jacket, dark sunglasses, and long hair in the back (a mullet without the irony). Among the Advanced are Bob Dylan, David Bowie, and Lou Reed.
In the 1990s, U2 appeared ready to become Advanced-especially Bono, who already had the hair for it. But they never fully embraced it, and there was a nagging bit of irony in their act, which is incompatible with being Advanced. Eventually, they put away the devil horns and lemon-shaped disco ball and left Advancement behind, having to settle for being the world's most popular band again.
Their broad appeal was on full display at the Continental Airlines Arena: A quick scan of the crowd revealed an older woman with blond dreadlocks wearing an "Unforgettable Fire" t-shirt, a bond trader still in his work clothes, and a dude drinking a Coors Light who would later yell, "That's what I'm talkin' about!" when the Edge picked up an acoustic guitar. All of them would go home happy.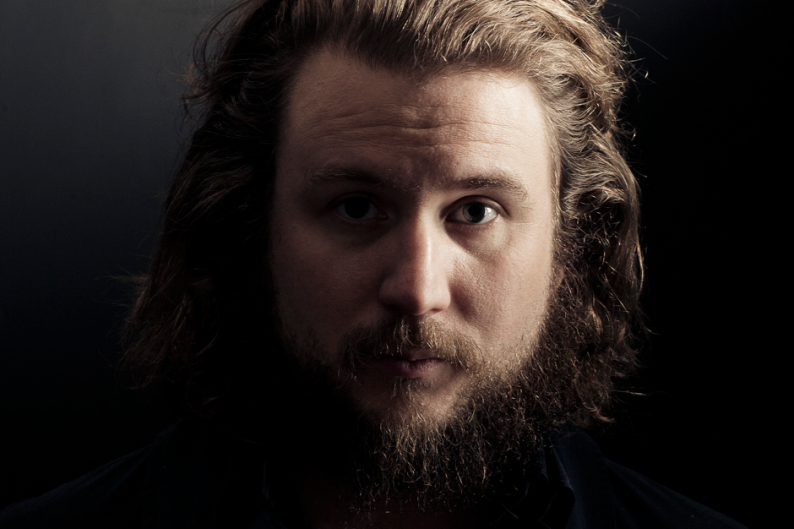 The show began with the Edge playing a shimmering Joshua Tree-style intro as iridescent curtains descended from the ceiling. Images were projected onto them, making them look like skyscrapers, an apparent reference to what would be the first song, "City of Blinding Lights." When the band joined in, the fans on the floor pumped their fists in agreement that U2 know how to put on a professional concert. Man of faith that he is, Bono announced before the second song that he believes the people in New Jersey can count. He was wrong, as the crowd skipped from three to fourteen, but "Vertigo" started anyway. It's impressive that a band that has been around as long as U2 can still open with their newest material. Try to imagine, say, the Rolling Stones opening up with "One Hit to the Body." But the crowd seemed to prefer the newer material, with the exception of "Pride (in the Name of Love)" and "Where the Streets Have No Name." In fact, oldies "Gloria" and "The Ocean" inspired a mad rush to the bathroom.
Though the sound was murky-Adam Clayton's bass was particularly washed out-people in the audience were too busy singing to notice. They helped launch "Elevation" by singing woo-hoo to the Edge's wah-wah. Bono's speech before "Miracle Drug" showed that his public-speaking skills have evolved since he worried about buggin' us in Rattle and Hum. He told the crowd about a struggling newborn who was depending on science to stay alive. But before everyone was too bummed out, he joked that, "This band is excited about the future of science, medicine and…guitar effects." Of course, his public-singing skills have never been questioned, and he was particularly strong on "Sometimes You Can't Make It On Your Own," another song from their latest album.
Larry Mullen, the world's most handsome drummer, came out to the front of the catwalk to play "Love and Peace or Else," a bluesy song with just a dash of "Your Own Personal Jesus." After Mullen went back to his kit, the band took on "Sunday, Bloody Sunday," a song that makes you feel like rock'n'roll still can change the world. Toward the end of the song, Bono seemed to be channeling José Feliciano, but before any harm was done, the band went right into "Bullet the Blue Sky." They played it more quietly than usual, and the Edge's guitar had a distinct David Gilmour flavor. Delicious. Next, during the no-kidding beautiful "Running to Stand Still," it was hard to believe that Zoo TV ever happened. That era must feel like a very expensive dream to the band these days.
Though "Pride (In the Name of Love)" was right on, "Where the Streets Have No Name" eclipsed it. It's hard to believe that this song could still be exciting even after all these years, but it was. In fact, it was the best song of the night. There was also a nice video montage of international flags blending together on the curtains from the beginning of the concert. Another great visual effect came when Bono asked everyone to light up their cell phones during "One." With all the electric-blue lights, it felt like we were in the movie Tron, post–Master Control Program. Then the band left the stage, promising to return.
The first encore began with images of various pop-culture figures flashing on four screens like a giant slot machine. The Edge announced himself with the teeth-shattering opening riff of "Zoo Station," and Bono appeared wearing a hat that made him look like a general or maybe a bus driver. (It was hard to tell from the official online reviewers' section high atop the arena.) Throughout the song, the Edge played and walked along the catwalk with an ease reminiscent of Eddie Van Halen's desktop solos in the "Hot for Teacher" video. The encore ended with "The Fly" and "Mysterious Ways." There was no belly dancer-she's married to the Edge now-but Bono did dance with a woman from the audience, as is his custom.
The second encore started with "All Because of You," a straightforward rock song carried by the Edge, followed by an acoustic version of "Yahweh." Then Bono invited some funny-haired audience members up on stage to play a truncated "I Still Haven't Found What I'm Looking For." Well, it was supposed to be truncated, but the guitarist coerced Larry Mullen to keep playing. Finally they got off, and the concert closed with a moving version of "Bad." In the end, everyone-from the blond-dread lady to the bond trader to the Coors Light dude-sang together, "How long must we sing this song?"
Though U2 seem to have abandoned Advancement, there is still plenty to look forward to: Lou Reed's new live DVD, Bob Dylan's musical, and Willie Nelson and Jessica Simpson's "funk-defied" cover of "These Boots Are Made for Walking" from The Dukes of Hazzard. Now that's what I'm talkin' about.
For more on the Advanced Theory, go to http://advancedtheory.blogspot.com